Presque Isle Wine Cellars
by
K.L. Sullivan
Summary: Presque Isle Wine Cellars, owned by Doug Moorhead along with Marlene Moorhead and Marc and Lauri Boettcher, offers delicious wines, a vast array of wine equipment for the home winemaker, and a wealth of information. No matter what your interest is, you will be happy to stop by Presque Isle Wine Cellars.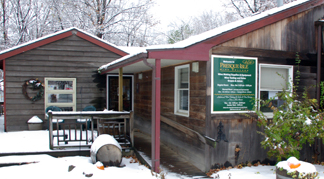 We found our way to Presque Isle Wine Cellars during the first snow of the season. Nearby trees were covered with snow clinging to their branches. Snow on the ground was trying to decide whether to melt or stay. The tasting room with the winery beneath it is located next to a rippling creek. We were happy to walk into the Presque Isle Wine Cellars comfortable tasting room.
We talked with Doug Moorhead, a pioneer in the Pennsylvania wine industry. He was involved with introducing vinifera grapes to the area. Talking with Doug was a marvelous experience. Doug is a storehouse of wine information and he is happy to share this knowledge with anyone. He explained that 95 percent of the grapes in Pennsylvania are grown in this area.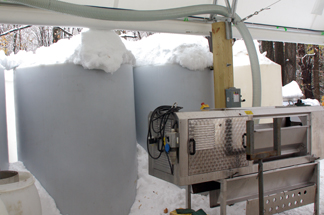 In 1964, Doug Moorhead and Bill Konnerth began selling winery supplies to wineries and amateur winemakers. In 1968, Doug added winemaking to his many accomplishments. In addition to being one of the first wineries in Pennsylvania, Doug also has 170 acres of grapes. Forty acres are wine grapes and 130 acres of labrusca go to Welch's. Virtually all of the wines produced by the winery are from Lake Erie grapes. Doug has been working with 17 or 18 growers for many years and they understand the quality of the grapes that the winery needs.
We toured the facility. There is a large stock of winemaking supplies for home winemakers. They have organized materials making it easy for shipments to be made in 48 hours from receiving the order. Below the tasting room is the winery operation. Outside the press and other winery equipment were undercover. However, snow topped several tanks.
Doug continued talking with us as we tasted the wines. He believes the "wine grape industry has a lot of potential."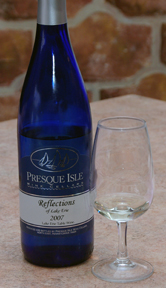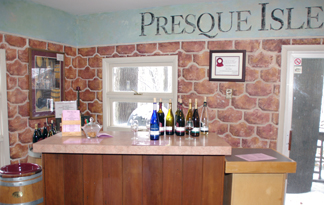 White Wines
Reflections 2007 was from a blend of Cayuga, Riesling and Vidal. The aroma was fruity and the taste offered nuances of peach and apple. The finish was slightly sweet and fruity. Gewürztraminer 2007 had an aroma of floral and spice. The taste was spicy with roses. The finish was crisp and dry with a long spice and rose aftertaste. Traminette Reserve 2007 with a residual sugar of three percent began with a floral and spice aroma. The taste was smooth and fruity. The finish was sweet to drying. Viognier 2006 offered a caramel and oak aroma. The taste was of tropical fruit and the finish was crisp.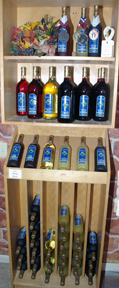 Red Wines
Dornfelder 2007 offered an aroma and taste of red cherry. The finish was crisp with mild tannins. Noiret 2007, developed by Cornell University, was a dark opaque purple. There was a pepper and spice aroma. The taste was smooth with black fruit and pepper. The finish had pepper with mild tannins. Blaufrankisch, also known as Lemberger, offered an aroma of a pine forest. The taste was smooth and crisp with very light tannins. Merlot 2005 was produced from grapes obtained from Long Island due to a lack of the grapes from the area that year. The aroma and taste were black cherry. The finish had fruit and big tannins.
Presque Isle Wine Cellars is a large business. This year they dealt with 700 tons of grapes. They sell 35,000 gallons of juice to other wineries and home winemakers.
The tasting room offers gourmet food items including olive oil and olives. Wine accessories are available as well as a wide selection of books about wine and winemaking.
When you have an opportunity, visit Presque Isle Wine Cellars. Home winemakers may want to check out their website which has a catalogue of the wine supplies offered and available by mail.
Presque Isle Wine Cellars
9440 West Main Rd.
North East, PA 16428
GPS: N42° 11.725' W79° 53.509'
---