Logan's View Winery
by
Kathy Sullivan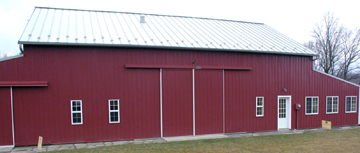 Summary: Logan's View Winery in Pennsylvania is the result of a partnership of friends. The winery produces a significant number of wines both sweet and dry. Most of the fruit for the winery is sourced from nearby Brown's Orchard.
Logan's View Winery is a boutique winery located on the top of a knoll. The winery is owned by a group of partners. It opened in 2008.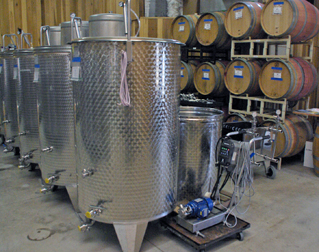 From the outside, the winery building reminds one of a barn. Once inside the numerous stainless steel tanks shine brightly against the light wood walls.
During special events, including the Mason Dixon Wine Trail's Tour de Tanks in March and Wine Just Off the Vine in November, visitors can stop by the winery in Glen Rock for a winery tour and wine tasting. Throughout the year Logan's View wines are available in Shrewsbury and Loganville.
Today the winemaker at Logan's View Winery is Steve Bahn, an enthusiastic winemaker. Steve studied enology at Fresno State. In 1981 he opened his own winery. In 1989 he sold the equipment with the vineyard. Steve went to work for the Liquor Control Board. He told us, "I didn't realize how much I liked winemaking until I didn't do it for 25 years."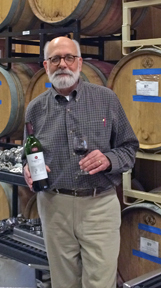 Eventually Steve was offered the role of winemaker at Logan's View Winery. When he walked into the winery and saw three of his own tanks from years ago, he decided that it was a "sign" and accepted the winemaker position. Today he is very happy he is once again producing wine.
Steve produces fruit wines and grape wines. Most of the fruit for the wines is obtained from local Brown's Orchard and Market. With the fruit, Steve produces apple, ice apple, blackberry, blueberry and strawberry wines. Grape wines include: Riesling, Chardonnay, Pinot Gris, Casa Bianca, Cabernet Sauvignon and Cabernet Franc. In spring 2015, 45,000 bottles (375 cases) of wine is produced by Logan's View Winery.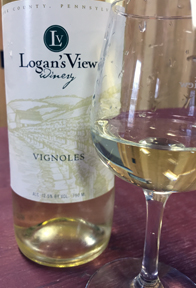 Logan's View Wines
Logan's View Winery production includes 15% dry red and white wines. Sweet wines make up the remainder of the portfolio. Almost 30 wines are in the winery's portfolio. Steve says that this is what their customers want.
Chardonnay 2014 was a light yellow with notes of apple and citrus. The finish was crisp and fruity with some hints of minerality. It dried on the finish. Vignettes 2013 was a yellow color. The wine had floral notes with some honey, apple and tropical fruit. Riesling was a pale yellow. It was aromatic with fruit notes and a hint of citrus. The wine had 2% residual sugar. Suggested pairings included spicy food, Maryland crab and seafood. Casa Bianca produced with the Bianca grape was a bright pale yellow color. Bianca grapes are originally from Hungary. The wine was aromatic and offered lots of citrus including lemon and grapefruit notes. It was crisp. This was a 2015 Pennsylvania Farm Show Medal Winner. Suggested pairings included fish, poultry, spicy Asian foods and cream sauces.
Merlot 2013 was a translucent dark ruby with a sienna hue. The wine offered an aroma of dark fruit and leather. The taste was of dark fruit, black cherry and leather. Tannins and leather were on the finish.
Blueberry with 9% alcohol was also a 2015 Pennsylvania Farm Show Medal Winner. This blueberry wine offered a fresh blueberry aroma and taste and the taste lingered. The suggested pairing was cream brûlée. When you drink this wine think of a home baked, fresh blueberry pie without the crust. Blackberry with 12% residual sugar was a translucent red color. The aroma was earthy and the taste sweet. Blackberry notes were on the aftertaste.
Wine lovers can discover Logan's View wines around the year at two locations: Brown's Orchard and Farm Market and The Shops at 16 North Main in Shrewsbury, Pennsylvania. The retail shops are open seven days a week.
Logan's View Winery
4830 Hildebrand Road
Glen Rock, Pennsylvania
GPS: N39º 44.817' W76º 45.376'
Wine Shop Locations
Brown's Orchard and Farm Market
8892 Susquehanna Trail South
Loganville, Pennsylvania  17342

The Shops at 16 N Main and Country Road Photography
16 N. Main Street
Shrewbury, Pennsylvania  17361
Article written April 2015
---