Cullari Vineyards and Winery
by
Kathy Sullivan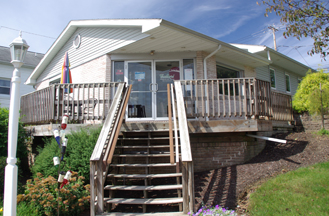 Summary: Cullari Vineyards and Winery in Pennsylvania is a family owned winery. The delightful tasting room is in Hershey with the winery and vineyards a few miles away. Perhaps this is one reason why the chocolate wine is one of the top sellers. Salvatore Cullari wants to create wines that are affordable so that everyone can enjoy wine with food on a daily basis. Salvatore will only create and sell quality wines. He noted "I won't sell what I wouldn't drink."
Cullari Vineyards and Winery tasting room located in Hershey, Pennsylvania provides a delightful spot to sit and enjoy a wine tasting or a glass of wine. A paved parking lot in front of the tasting room is adjacent to a wood staircase. A small deck with tables and chairs provides an outdoor location to enjoy a glass of wine.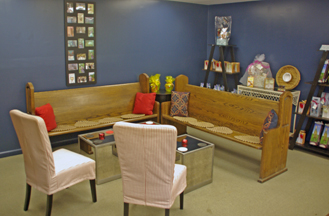 Inside, the tasting room is divided between two rooms with three steps separating them. Immediately upon entering, a sitting area with chairs and two church pews is available. A short distance away consumers can ask to taste wines or purchase wine. On the second level numerous tables with tablecloths and candles provide seating for tastings or small events. A second relaxing seating area is included on the second level.
Private events can be planned. Consider hosting a small birthday party, anniversary party, or business meeting in the tasting room.
Background
The winery is the result of Salvatore's father, grandfather and cousins making wine. Today Salvatore enjoys producing wine. Salvatore and his brother, Guy, grew up with wine. Their father made wine at home and Salvatore would help. He notes that he has been involved in wine all his life.
Cullari Vineyards
The four acres of vineyards are filled with Zinfandel, Merlot, Chardonnay, Cabernet Sauvignon, and Sangiovese. The vineyards and winery are located about four miles from the Hershey tasting room.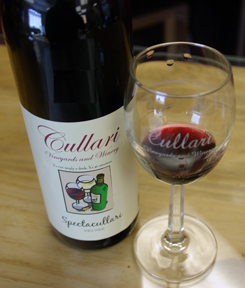 White Wines
Salvatore is determined to produce only quality wines. He noted "I won't sell what I wouldn't drink." In addition Salvatore wants his quality wines to be reasonably priced so that everyone can enjoy wine with food every day.

Dry Riesling was a very light straw color. The aroma and taste offered a touch of peach and hint of lime. The finish was crisp and fruity. Semi-Sweet Riesling, a best seller, had a very light color. The taste was crisp, fruity and not overly sweet. White on White, the biggest selling wine, was a light straw color with a sweet taste. Suggested pairings included spicy foods, pork, and Mexican food.
Red Wines
Spectacullari was a blend of Cabernet Sauvignon, Cabernet Franc, Merlot and a touch of Syrah. The result was a dark ruby color with dark fruit notes. The finish was fruity with tannins. This is an excellent wine to pair with pasta and pizza. Pomegranate was red with a Sienna hue. The wine had pomegranate notes. The sweetness yielded to tartness. Coco Nostra was red with a very chocolaty aroma and taste. This is a wine that pairs well with a visit to Hershey, Pennsylvania.
While visiting Cullari tasting room enjoy the experience and wine tastings. Browse the wine accessories and gift baskets available for purchase. Cullari Vineyards and Winery is on the new Mason-Dixon Wine Trail. Watch for special events.
Cullari Vineyards & Winery
1251 East Chocolate Avenue
Hershey, Pennsylvania 17033
GPS: 40º 17.803' W76º 37.301'
---