Moon Dancer Vineyards and Winery
by
K.L. Sullivan
Summary: Atop a hill with a beautiful view of the Susquehanna River, Moon Dancer is a destination site. Here is a winery that opened in 2004 with quality wines, entertaining events, and a lovely ambience.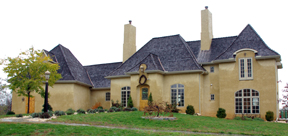 After crossing the Susquehanna River, we traveled for a brief time in the Pennsylvania countryside until reaching a sign for Moon Dancer. Traveling up a rocky and curving driveway, we quickly had vineyards on both sides of the driveway and in front of us was a French Country style chateau. Despite the rainy day, we anticipated a wonderful visit and were not disappointed.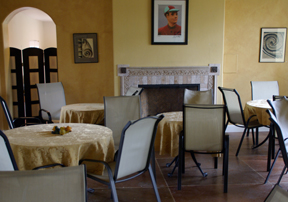 Upon entering the winery, we were in an event room with round tables covered with gold tablecloths and miniature green and yellow gourds as centerpieces. Farther on were large windows looking out on a slate patio with a small wood stove. This would be delightful on a chilly night. The rainy, cloudy day did not detract from the view of the river in the distance. This would make a lovely spot to sit and enjoy a glass of wine on a clear day. On a chilly day enjoy a class of wine near a fireplace.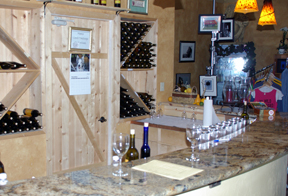 To the left is the wine tasting room, where a curved, granite countertop is available for wine tastings. This is a tasting room with an emphasis on wines, although there is some merchandise available including a display of lovely handcrafted jewelry created by Sue Miller, a contemporary glass artist under the name Moon Dancer Beads. If you can't make it to the winery, you may want to check out her website. Jim Miller, owner of Moon Dancer, sees a connection between art and winemaking. He also includes artists at his winery. At the time of our visit, numerous photographs were available for purchase. About every four to six weeks, a new artist will have a showing.
Jim is also the winemaker and vineyard manager. He gives his wife, Sue, credit for the name of the winery as well as noting the connection with the Native Americans who once occupied this area. Jim discovered that during harvest season when standing on one side of his vineyards and looking at the winery, the Big Dipper is seen just over the winery.
Currently with 12 acres of vineyards that include Cabernet Sauvignon, Cabernet Franc, Merlot, Syrah, Chardonnay, Riesling, Pinot Grigio and Pinot Noir, the plan is to plant another five or six acres. These future grapevines will include Malbec and Peit Verdot.The vineyards are located on a slope towards the river and catch the morning sun. In the spring, bud break is earlier and there is frost protection. The river also helps to create a microclimate that extends the fall harvest a few weeks.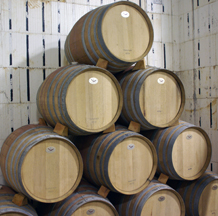 The winery purchases some grapes. Jim began producing drier red wines but now includes some sweeter wines to please those who like their sweet wines. This year he is also producing an iced wine. Moon Dancer also produces port and sparkling wine. Currently Moon Dancer Vineyards & Winery is producing about 4200 cases of wine.
The winery is located in the underground area of the building, thus taking advantage of the insulating earth providing temperature control. Only one door leads directly outdoors to the press pad. Nadalie, a French barrel maker in California, manufactures oak barrels of Pennsylvania oak. Unlike other wineries that we have visited that run out of room as soon as the facility is built, Jim has room to grow. His barrel storage room has the capacity of over 300 barrels. This gives Jim the ability to increase his production.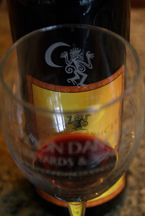 After the tour, we tasted several wines. Pinot Grigio had a slight fruit on the nose, and was crisp with a very fruity taste. Wild Naked Chardonnay was unoaked and aged in stainless steel tanks. It was fruity in taste and crisp. The Riesling was floral and fruity with a high acid (crispy), slight aftertaste. It was semi dry but ended dry. The Merlot was ruby red with cherries and plum. It was crisp with soft tannins. Meritage was a blend of 40% Merlot, 30% Cabernet Franc and 30% Cabernet Sauvignon. It offered a red fruit, black cherry and plum nose and taste, ending with a balance of fruit and acid.
Events are numerous at Moon Dancer. Whether you are looking for music, concerts or murder mysteries be sure to check out the Moon Dancer website. The facility is also available for private events including weddings, receptions, showers and private parties. The indoor rooms can host events with up to 60 to 70 people in attendance. Outside there are acres of land for larger events.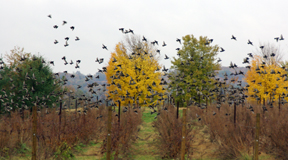 Take time to enjoy a leisurely visit to Moon Dancer Vineyards and Winery. This is a perfect winery to visit and enjoy a glass of your favorite Moon Dancer wine. The views during any season are spectatular.
GPS: N 39° 59.297' W 076° 30.477'
---