Tamanend Winery
by
Kathy Sullivan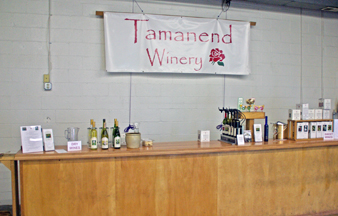 Summary: Tamanend Winery, a unique winery, is focused on winemaking research and using the latest winemaking technology. The winery produces wine for Tamanend and for business clients. Tamanend Winery participates in the new Mason-Dixon Wine Trail.
The Chief of the Delaware Indian tribes was Chief Tamanend. A treaty for this region was signed by Chief Tamanend and William Penn. Subsequently the land became know as Penn's Woods or Pennsylvania.
Tamanend Winery, started by Linda Jones McKee and Richard Carey, focuses on doing research for winemakers. They also produce wines, preferring to use the latest technology. Their mission is to raise the quality of wines.
McKee is a wine journalist, who owned Wines East magazine until Wines and Vines purchased it in 2008. Today she is an editor for Wines and Vines. Carey began in the wine industry when he purchased a California winery in 1977. After selling the winery in 1983, Carey went on to Fresno State where he was a research oenologist. Carey also runs the Vitis Wine Center, a service center for the wine industry. After making wine in their garage, McKee and Carey started Tamanend Winery in 2001. Carey also owns a consulting business.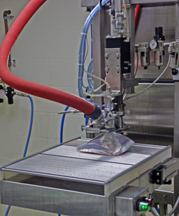 In 2011, the winery sourced most of their grapes from Pennsylvania vineyards. Wines labeled with the Torosa label are produced from grapes sourced outside of Pennsylvania. The Tamanend wine labels are based on flowers. Lancaster is known as the city of roses while York is the city of white roses, a concept tracing back to England's War of the Roses. Premium wines are named after Pennsylvania wild flowers and packaged in "eco-friendly" boxes. In the boxes, there are air-tight plastic bags. These bags can keep the wine fresh for several weeks. At the time of our visit, a machine was filling bags with wine.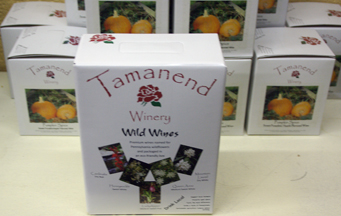 White Wines
Olé was produced with Viognier sourced from north of Harrisburg. The wine was a light straw color. The aroma was of light tropical fruits and the taste was also of tropical fruit. This dry wine was very pleasant. Consider pairing this wine with fish or cheese. Moonstone made with Pennsylvania Chardonnay was a light straw color. The aroma was fragrant and the taste offered notes of apple and pear. Irresistible was a very light straw color and had .75 percent residual sugar. The taste was smooth with light fruit. This is a good 3P wine – good for sipping at the pool, picnic or patio.
Red Wines
Alleluia 2006 was produced with Chambourcin grapes sourced from vineyards north of Harrisburg. This dark ruby wine offered earthy and dark fruit notes. There were mild tannins on a fruity finish yielding to earthiness. Braveheart 2008, produced from Cabernet grapes, was sourced from Lancaster County. The wine had blackberry and green notes. The finish offered tannins with dark fruit notes. American Beauty 2008 was a Cabernet Franc. The wine was a ruby color with an aroma of pepper. The dark fruit taste yielded to pepper. Tannins were on the finish.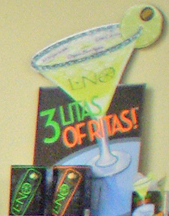 Agave Wines
A don't miss wine that you'll have an opportunity to taste is the LNO Key Lime Margarita wine. The LNO (Like No Other) offered lime on the nose. The taste had lime notes. The finish was refreshing just like a traditional Margarita. Unlike a traditional Margarita made from distilling, this Margarita wine has a lower alcohol content. Margarita wine is made to taste like a Margarita. It is produced by cool-fermenting agave juice. It can take up to three weeks to ferment. McKee and Carey did the research and created this Margarita wine.
Azul D'Oro is produced in a style of white Port. The alcohol content is 20 percent. The wine was made from agave. The aroma and taste is of blue agave. The finish was smooth with no alcohol burn.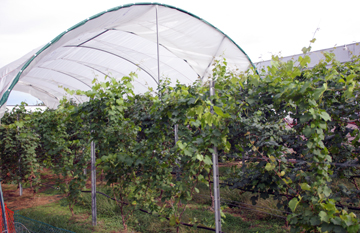 Vitis Wine Center
The Vitis Wine Center offers several services for winemakers. Among some of the services available are wine consultation, bag-in-box packaging and volatile acid removal. If you drive behind the winery, you'll see a small experimental vineyard. Part of the vineyard is under a Haygrove polytunnel. Carey is experimenting to see if there are differences between grapes produced in the tunnel and in the open. In addition to collecting data about the length of the growing season, he can determine if the poloytunnel has a decrease in birds and insects.
Travelers and visitors can visit the winery for wine tastings. Two tasting rooms are also available, one in Strasburg and the other in Lancaster.
Tamanend Winery
759 Flory Mill Road
Lancaster, PA 17601
GPS: N40º 04.837' W76º 20.589'
---