Greendance, The Winery at Sand Hill
by
Kathy Sullivan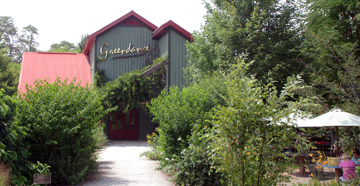 Summary: Greendance Winery is sister to Sand Hill Berries. A close relationship and location working together has created a memorable experience for visitors. Enjoy learning about Greendance Winery and Sand Hill Berries at this one stop destination.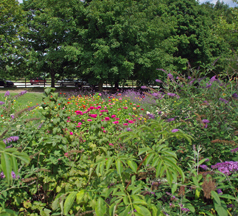 Greendance Winery began as a berry farm, Sand Hill Berries, long before the idea of a winery came into existence. Today Greendance Winery is a sister winery to Sand Hill Berries. Visitors to Greendance can easily spend several hours enjoying everything they have to offer. In addition to the winery and tasting room, take time to enjoy the cut flower garden, butterfly garden, apple orchard, fresh farm market, Cabin Café and special events. According to Amy Schillings, "Everything planted has a reason."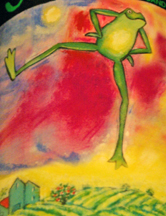 Visitors will note the symbol of a green frog on labels and throughout the winery. Green is a theme for Greendance. One winter there were dancing lessons for the young cousins in preparation for a wedding. While thinking of a name for the winery, Greendance was chosen. The family also wanted to use an animal on the wine labels and chose a frog since frogs are green. To go along with the dance part of the name, a designer created a dancing frog on the wine bottle labels.
The vineyards on the property include: Brianna, Chambourcin, Concord, Diamond, Marechal Foch, Frontenac, Frontenac Gris, La Crescent, Marquette, New York 84, Niagara, Noiret, Prairie Star, Rubiana and Traminette.
History
The 150-acre property was purchased in 1980 by three siblings and their spouses who wanted to raise their children in the country. By 1986, the three siblings were canning. Eventually they planted 10,000 raspberries. Unfortunately, a large number of the plants succumbed to lack of water. Learning more about raspberry requirements, the families installed an irrigation system and planted black raspberries. They began selling their fresh berries and eventually expanded to jams and jellies.
In 2007, the two sisters and their husbands along with neighbors added a winery. The proprietors of the winery are Susan and Rick Lynns, Amy and Rob Schillings and Walter and Roxanne Vinoski. Walter is the winemaker.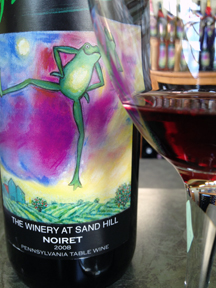 Greendance Wines
Pinot Gris was very clear with a light yellow color. The aroma was of fruit while the taste was sweet with fruit notes. Noiret 2008 was a light ruby with a rocky and earthy aroma. The taste was of dark fruits and the finish had mild tannins. Chambourcin 2007 was a light ruby. The wine offered black fruity notes. The taste was crisp reminding one of a black fruit salad. Red Raspberry wine was a dark ruby. The raspberry aroma was followed by a fresh raspberry taste. There was some sweetness and then the wine dried on the finish. Blackberry wine was a light ruby with Sienna hues. The wine offered blackberry aroma and taste with a crisp finish. Rhubarb wine was a very pale pink with a faint aroma of rhubarb. The rhubarb became more pronounced on the taste and finish. Isabella wine was a light pink. The aroma was of summer red berries. The taste was sweet and fruity. This is a delightful 3P (patio, porch or pool) wine.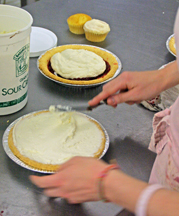 Farm Store
The farm store is just a few feet from the Greendance wine tasting room. Visitors will discover an assortment of fresh fruits, canned fruits and fresh baked cookies and pies. Baking takes place on the property. About 2,000 pies are produced and sold each week.
Events
Frequently music events take place at Greendance. Space is available for private events. Many weddings take place at the winery. Different areas are available. Other events that can take place at the winery include birthday parties and bachelorette parties. Amy noted that the prices are very reasonable.
We wish we had arrived early at Greendance Winery and had extra time to spend in this delightful winery and garden oasis.
Greendance 

306 Deer Field Road
Mt. Pleasant, Pennsylvania 15666
GPS: N40º 10.444' W79º 33.084'
---