Shade Mountain Winery and Vineyards
by
Terry & Kathy Sullivan
Summary: Wine enthusiasts can enjoy spectacular views of the vineyards along the foothills of Shade Mountain near Middleburg, Pennsylvania. The winery and vineyards are on Route 104 which is a well traveled road and allows many travelers to stop at the winery. Visitors who are traveling in this rural area of Pennsylvania will find Shade Mountain Vineyards to be a gem of a find.
Originally Shade Mountain Vineyards was a traditional farm with Charolais cattle, corn and soybeans. Eventually the farm changed to a hog farm. When the hog industry went "south" the owners, Karl and Carolyn Zimmerman decided to try one "last great idea" and in 1989 planted their first vineyards.
Vineyards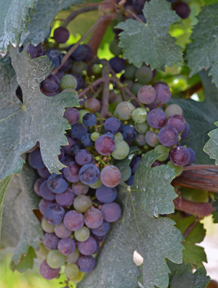 Shade Mountain Vineyards comprises over 68 acres of vineyards which meets enough of the grape needs for their own wine production and to sell to other Pennsylvania wineries. The vineyards are planted with 40 different varieties. Some of the white grape varieties include Chardonnay, Pinot Grigio, Riesling, Sauvignon Blanc, Traminette, Viognier and Niagara. While some of the red varietal grapes include: Cabernet Franc, Cabernet Sauvignon, Chambourcin, Lemberger, Merlot, Pinot Noir, Steuben and Concord. Bill, a son, mentioned that the Chambourcin, Chardonnay and Steuben do well every year. During our mid-August visit, the Cabernet Franc (pictured) had recently started veraison.
The winery and vineyards is family run. Karl is joined by sons Bill and Ben in the vineyards and winery. Carolyn and Karl's daughters Amy and Jenny help in the tasting room. The third generation, Carly and Peter, help in the vineyards to harvest grapes and in the winery during bottling moving empty boxes.
Carolyn told us that their four children have returned to help with the vineyards and winery. She noted with a smile that, "They would not have come back for corn and soybeans but they came back for wine." Carolyn mentioned that her husband Karl is clever and was able to adapt the farm equipment for use in the vineyard.
After meeting Carolyn, we met Bill. Bill and his father Karl are the winemakers for Shade Mountain Winery and Vineyards. Bill majored in economics but decided he would prefer returning to work for the family vineyards and winery. Shade Mountain Vineyards sold their first wines in 1999.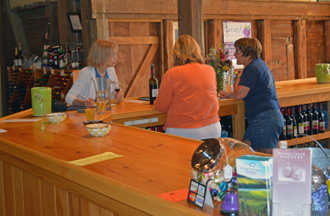 Winery and Tasting Room
A converted bank barn from the 19th century is home to the winery. The winery produces about 30,000 gallons or about 12,500 cases of wine per year. The wine portfolio includes both grape wines and fruit wines.
The winery has been renovated over the years. The last renovation was the addition of an event room and decks overlooking the vineyard. Shade Mountain Vineyards offers an event area for private and public events. The tasting room is in a large area with a L-shaped tasting counter and an expansive retail area.
Shade Mountain Wines
According to Bill, the winery "Can cater to the different demographics of the area." The tasting room offers traditional wines and some very unique wines. Among the unique wines look for any number of unusual wines including a variety of fruit wines and a mint wine. Fruit wines are produced with 100 percent fruit with most fruit sourced from local growers. Cabernet Franc and Chambourcin are among the best selling wines; sweet wines also sell well.
Chardonnay 2013 was yellow with notes of pear, a bit of apple and caramel. The wine was smooth and crisp with a long caramel aftertaste. The 2012 Edelweiss was a light yellow colored slightly sweet wine. The aroma and taste included pear and apple. The finish was crisp. Pair the wine with a rocking chair on grandma's porch.
Chambourcin 2010 was a translucent dark ruby color. The aroma of berry fruit was accompanied by tastes of raspberry, blackberry, leather and a hint of plum. The 2013 Lemberger had a translucent red with orange hue color and offered notes of dark fruits and a hint of smoke. The wine was slightly sweet. The 2012 Cabernet Franc was a translucent ruby with a sienna hue color. The dry wine had black fruit notes and offered a crisp finish.
Stone-Aged Prehistoric Peach wine was a yellow color with a very peachy aroma and taste. This was like a peach cobbler in a glass. The first peach wines were sold with a stone deliberately added to the bottle to emphasize the name Stone-aged. The customers liked it. The Elderberry wine was very sweet and tasted of elderberries.
We have never tasted a mint wine, and were interested to try Shade Mountain's Six Dwarfs Mint wine. The light green colored wine was refreshing and would be a perfect afternoon "pick me up." You may want to try this sweet, spearmint tasting wine with a frozen slice of peach in the glass to keep the wine cool. When empty, eat the peach.
Shade Mountain Vineyards is along the Susquehanna Heartland Wine Trail. Plan to spend some time on the deck enjoying the vineyard views.
Shade Mountain Winery & Vineyards
16140 Route 104
Middleburg, Pennsylvania 17842
GPS: N40º 49.477' W77º 03.085'
Article written August 2015
---