Penn Shore Winery
by
K.L. Sullivan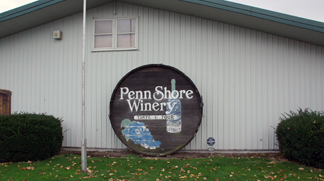 Summary: Penn Shore Winery, located among acres and acres of grapes along Lake Erie provides a wine tasting experience with good wine, giftware and friendliness. Penn Shore located on East Lake Road in North East, Pennsylvania is easy to find and provides a delightful tasting room to visit. The winery is "one of the oldest wineries in Pennsylvania" having received its license in 1968. It opened doors for business in 1969.
Visitors will easily find Penn Shore Winery located among acres of vineyards. A grape arbor leads to the front door. Inside, visitors will discover a great atmosphere with gift items available including "Wine Fest Blankets," oil and vinegar bottle sets, ceramic pitchers and bread plates as well as a seasonal candy cane tower with spreaders.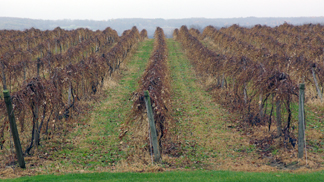 According to Jeff Ore, owner along with his wife Cheryl, this area along Lake Erie is home to 30,000 acres of grapes with 80 percent being Concord and Niagara. Many of these labrusca grapes go to Welch's.
Penn Shore was one of the earliest wineries to receive a limited wine license obtained in 1968. The doors to the winery opened in 1970.
The present owners, Jeff and Cheryl, purchased the property in North East, Pennsylvania after Jeff decided he wanted to leave corporate America. Cheryl and Jeff grew up in the area and after living in various areas of the country, they decided to return to North East. Jeff and Cheryl purchased Penn Shore Winery four years ago when it became available because the owner wished to open up another winery.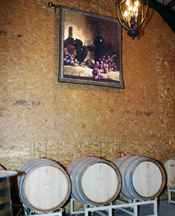 We toured the winery with Jeff. Today Penn Shore produces 15,000 gallons (6,250 cases) consisting of 21 different wines from native American to vinifera and includes a bubbling wine and sparkling wine. The winery uses French, Hungarian and American oak barrels. A bottling machine is adjusted for bottling vinifera and labrusca wines. They use cork for vinifera wines and screw tops for labrusca wines. Jeff noted, "Pennsylvania wines are branching out. Not just sweet wines. Education is a big part of what we do."
When visiting the area in the fall during harvest, people can smell the grapes in the air. The environment draws people to the area and while they are here, they stop by the wineries to taste wines. Jeff noted that people "want to taste the grape." People want to be a part of it and people can see the harvesting and smell the grapes especially the Concord.
Jeff wants his sweeter wine to be consistent while with the vinifera he believes the grapes should "speak for themselves." Winemakers and growers get together to discuss what makes good wine. Jeff works with growers to get them to understand good wine is made with good grapes. He not only meets with them but also shows them the difference.
The tasting counter is adjacent to an area for merchandise. A player piano is also nearby and on the day of our visit, a pianist was adding happy notes to the atmosphere in the winery. Everyone we saw was enjoying himself or herself including Jeff, Cheryl and their daughter who was serving tastings and answering questions.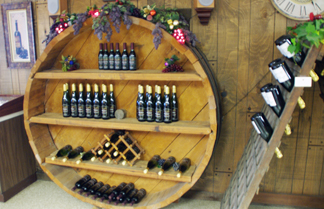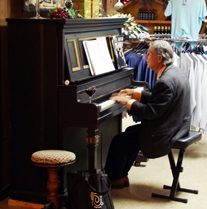 We visited Penn Shore on a day that they were having a special event in connection with other area wineries. Penn Shore was serving a delicious Italian Wedding Soup, a chicken-based vegetable soup.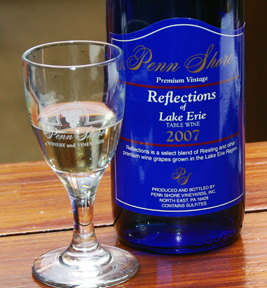 White Wines
We paired the soup with Bianca, a blend of Cayuga and Diamond grapes that had a 4.5 percent residual sugar. The aroma was fruity while the taste was sweet and fruity. It had a sweet finish but dried with the soup. Reflections of Lake Erie was produced with 100 percent Riesling. The aroma was fruity with mineral nuances. The taste was citrus with peaches and the fine finished dry. Vignoles 2007 had a floral and pineapple aroma. The taste and aftertaste were pineapple and the wine finished crisp.
Red Wine
Cabernet Sauvignon 2006 was a translucent red purple color. The wine offered an aroma and taste of violets and blackberries. The finish was crisp and fruity with very mild tannins.
Specialty Wines
Bubbling Niagara had an aroma and taste like the Niagara grape. The wine was cleansing with a long Niagara aftertaste.
We enjoyed our visit to Penn Shore Winery. We believe you will also enjoy visiting the winery. Be sure to ask about a tour and browse the gift area.
Penn Shore
10225 East Lake Road, Route 5
North East, Pennsylvania 16428
GPS: N 42° 13.761' W 79° 51.881'
---