Bastress Mountain Winery
by
Kathy Sullivan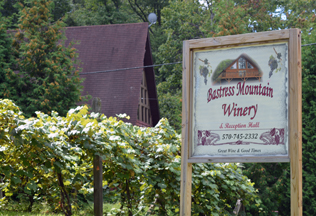 Summary: Bastress Mountain Winery, located in Pennsylvania's beautiful countryside, is a delightful and relaxing winery to visit. This is a family owned and operated winery that offers dry and sweet wines.
Bastress Mountain Winery is located in the foothills of Pennsylvania's mountains. The winery was named for Bastress township. The winery has plenty of country atmosphere but offers public and private events for the nearby urban area of Williamsport. We met Shawn, Karen and Toby Zimmerman during our visit, even though they were busy preparing for an annual Pig Roast for the next day.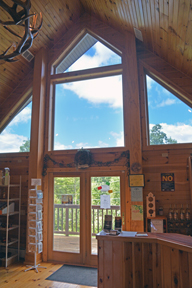 The tasting room is located in an A-shaped building. Inside walls are a red wine color, accented with honey colored pine framed windows and ceiling. Adjacent to the tasting room is an event room for public and private events with the same decor.
Visitors will want to explore the area outside of the tasting room or perhaps enjoy sitting on the wood covered deck. The ambiance includes trees, fish ponds, and a tall carved bear holding a wine bottle.

History of Bastress Mountain Winery
The Bastress Mountain Winery, owned by Karen and Shawn Zimmerman, was started in 2001. However, they have been making wine since 1990. Today they are producing dry, sweet and fruit wines. Toby, one of their sons, is the winemaker who learned his winemaking skills from his father. Now Shawn has taken over the distilling process in a separate building on the property.
Shawn has always been interested in winemaking. He recalled asking his parents for a winemaking kit when he was in 6th grade. Shawn said, "I just had it in my blood." Karen has taught business in the local schools for years. She is in charge of the mounds of business paperwork for the winery. Karen commented that Bastress Mountain Winery is a family owned winery that started from the ground, "We built the place."
We had a delightful conversation with Toby about his role in producing wines for Bastress Mountain Winery. He described growing up in a winemaking family. Toby enjoys winemaking because he likes to "create something and customers enjoy it." For Toby the winemaking process tends to be enjoyable except for the filtration process. He does not like it when the filtering machine needs to be taken apart and cleaned. We could empathize with that situation.
At the winery, locally grown fruits are purchased for wine production. The fruit wines are made from the juice of the fruits.
Toby noted that the customers tend to like sweet wines. He wants to continue on as winemaker at the winery. While it was noted that they do not receive a lot of tourists at the winery, people from surrounding towns visit.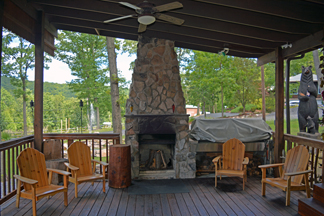 Events at Bastress Mountain Winery
The winery has a covered event space with a large, stone fireplace. There is also the enclosed event space. Private and public event possibilities include weddings, receptions, showers, dinners, pig roasts and a chili cook-off.
Bastress Mountain Wines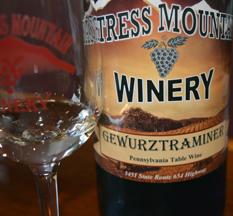 We tasted several wines while in the tasting room. Gewürztraminer was a light yellow color with aromas of floral and spices. The taste offered notes of peach and was semi-sweet. The finish was crisp and fruity with the fruit yielding to mineral. The wine dried on the aftertaste. Group Therapy wine was produced with the Muscat grape variety. This yellow wine had an aroma of orange blossoms. The taste was smooth with notes of orange blossoms, citrus and yellow stone fruit. There were notes of yellow stone fruit on the finish. Diamond White wine was produced with the Diamond grape variety. The light yellow colored wine was aromatic. The taste was sweet. This is a good wine for sweet wine lovers. Consider pairing it with a rocking chair anytime.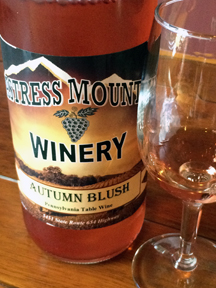 Jack Ass Red was a blend of five grapes. The three major grape varieties included Concord, Niagara and Cayuga. The result was a translucent red color with a pink hue. The wine offered notes of cherry and raspberry. This sweet wine can be paired with a chair or swing on the porch. Autumn Blush wine with 12 percent alcohol was a dark pink color with an orange hue. The semi-sweet wine was produced with Pink Catawba, an American grape. The wine was sweet with a hint of tartness. Enjoy this wine with food or as an aperitif.
Six on the Beach, a very popular seller, was produced with six different fruits. The fruit varieties included peach, mango, pineapple, passion fruit, grapes and banana. The light pink fruit was very aromatic with fruit notes especially mango and pineapple. Mountain Pomegranate was a ruby color. The taste was of pomegranate. It was very sweet, almost like candy.
For those who enjoy wine and want a day in the country, Bastress Mountain Winery is a perfect place to visit.
Bastress Mountain Winery
5451 State Route 654
Williamsport, PA 17702
GPS: N41º 11.325' W77º 08.017'
Article written August 2015
---