Twin Brook Winery
by
K.L. Sullivan
Twin Brook Winery is located farther out from the other wineries on the Brandywine Wine Trail, but it is most certainly a winery not to be missed. The friendliness, ambience and good wine makes this a great winery to visit. As we drove to Twin Brook Winery, we passed many large older farms and stone houses. It was a refreshing trip – away from traffic congestion and suburbia sprawl.
When we arrived and mentioned that we wanted to ask some questions, the wine tasting host immediately went to see if the winemaker had time to talk to us. We were fortunate and he came right away, answered our many questions, took us on a tour of the facilities and allowed us to take all the pictures we wanted. Twin Brook Winery is experiencing a "rebirth" of the quality of their wine over the past several years. We suggest you take the time and visit Twin Brook Winery.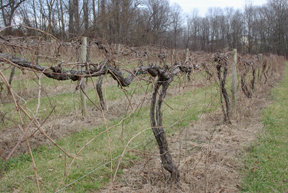 The oldest vineyards were planted in 1985 and are considered to be getting too old. These vines are on the right side of a long driveway, leading behind an old, stone house to a large winery building. The tasting room is located in a barn which was built in the 1800's, burned down in the 1930's and rebuilt, and now has been renovated as a winery.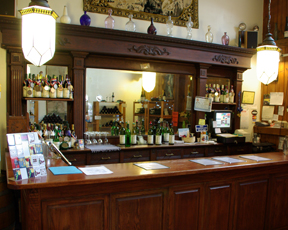 Going up a series of steps, we entered a room and on our left was a large upright frog. Slightly to our left was a winding, wood staircase and just beyond was the tasting bar. Behind the tasting bar, is a very ornate counter with carving and large mirrors. As I looked around I saw more frogs. Inquiring, I discovered that the wine bottle label at Twin Brook Winery has frogs on it. According to the history of Twin Brooks, the area near the brook had many frogs when they arrived.
According to the manager and winemaker, Twin Brook Winery currently has 30 acres of grapes with 12 different varieties. Ten acres are devoted to Pinot Grigio. Twin Brook produces approximately 10,000 cases. At the present time, Twin Brook Winery grows more grapes than they can use and the extra grapes are sold to nearby wineries. Two of the wines they produce are pinot grigio. One is aged in stainless steel and the other is aged in oak barrels. We tried a Chardonnay 2005, which was clean and crisp.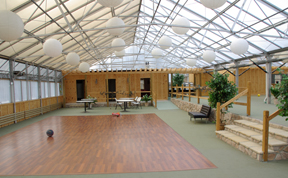 After our wine tasting and purchase of two bottles of wine, and at the invitation of the winemaker we walked over to the greenhouse which is actually a room for large groups to rent for special events. The center of one side had a dance floor in place, and steps leading up to the other side of the large room. Large white balloon-shaped lights hung from the ceiling. This is a perfect place to host a reception, party or large meeting. If you have an upcoming event to plan, check out Twin Brook Winery.
Twin Brook Winery
Gap, Pennsylvania
Area Lodging: Hilton Garden Inn, Kennett Square
---