Cherry Valley Vineyard
Sorrenti Wines
by
Kathy Sullivan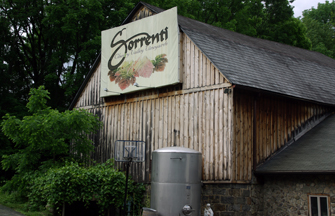 Summary: Enjoy a visit to Cherry Valley Vineyard located in a small glen just off Highway 33. The winery and vineyards are located in Saylorsburg, Pennsylvania.
Dominic and Mary Sorrenti started the Cherry Valley Vineyard winery in 1981. Today their son, Nicholas, is the winemaker and the winery produces close to 17,000 cases of wine. Their daughter is very involved in the tasting room and the eventual café that will promote healthy eating. Cherry Valley Vineyard was one of the first wineries in Pennsylvania to produce fruit wines. Currently the vineyards consist of 22 acres. Plans are underway to replant.
One of the key philosophies behind the winery was to produce good wines that consumers can afford. Mary Sorrenti commented, "Why don't we produce wines with hybrids so more people can afford them?" With regard to fruit wines, Mary noted that wine is traditionally made with grapes and that those who reject fruit wines should enlarge their palates.
Nicholas remembers following his father around the vineyard and winery learning about the winemaking process as he was growing up. Nicholas visited extended family living in Italy where he spent time learning about wine. He also traveled to France to learn more about winemaking.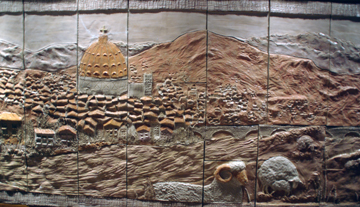 Cherry Valley Vineyard Tasting Room
The large tasting room has plenty of tasting counter space. Behind the tasting counter visitors will see a wall of porcelain artwork with a view of Sienna. This was created specifically for the Sorrenti's winery. The wood interior of the tasting room displays numerous gift items to browse. In the center of the tasting room several bistro tables and chairs are available for enjoying a glass of wine.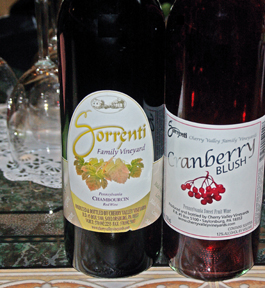 Sorrenti Wines
Cherry Valley Vineyard winery produces a wide selection of wines including white, red, blush, fruit and spumanti. Visitors to the winery will see numerous wine awards.
Chambourcin was ruby with an aroma of red berries. The taste was of red raspberries and a hint of smoke. The finish, with mild tannins, had fruit notes yielding to smoke hints. De Chaunac was ruby with notes of red berry fruit. The crisp finish had mild tannins. Cabernet Sauvignon was ruby with notes of black berries and mild tannins. Merlot was a ruby color. There were notes of cherry and black fruit. The finish was crisp and fruity. Leon Millot was ruby with a hint of sienna. There were red fruit notes with a hint of perfume. The aftertaste had vanilla nuances. Cranberry Blush was light red with pink hues. The crisp finish became tart on the aftertaste. Blackberry Merlot was ruby color with blackberry notes throughout. The crisp finish was drying on the finish. Blackberry Spumanti offered blackberry notes. The wine was very fruity with fizz. It was "yummy." Raspberry Spumanti with raspberry notes had a finish that was crisp and fruity.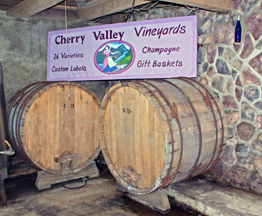 Events at Cherry Valley Vineyards
The winery offers numerous events both public and private. Events include Sangria Sundays, Strawberry Weekend, Barefoot Stomp, 4th of July Picnic, La Fiesta, Wine Appreciation Seminar and Wine & Swines Pig Roast. Be sure to visit the Cherry Valley Vineyard website for more information about special events. The winery provides space for private events including weddings and birthdays.
Enjoy a visit to Cherry Valley Vineyards for a tour and wine tasting.
Cherry Valley Vineyard
Lower Cherry Valley Road
Saylorsburg, PA 18353 GPS: N40º 53.100' W75º 18.486'
---