Four Springs Winery
by
Kathy Sullivan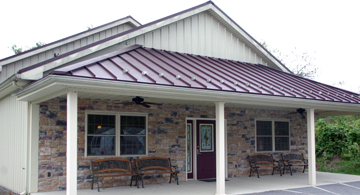 Summary: Four Springs Winery is a boutique winery located on the new Mason-Dixon Wine Trail. Enjoy a visit to Four Springs Winery in Seven Valleys, Pennsylvania. The winery tasting room is open Fridays, Saturdays, and Sundays.
Four Springs Winery in Seven Valleys, Pennsylvania, has established a warm and cozy tasting room with an adjacent sitting room. The owners had been home winemakers. After entering a home winemaking contest and winning "best" wine, they decided to make wine commercially.
Visitors to Four Springs Winery enter into a sitting room with the tasting counter in the room to the left. The sitting area is a perfect spot to enjoy a glass of wine. Walls display artwork , mixed media on canvas, by Joyce Gurrien. Gourmet foods are available in this room and include roasted red pepper and onion dip, southwest dip, simmer sauces including Thai Peanut Ginger or Spicy Mexican, and Margarita Sangria. Gift baskets are also available. Between the tasting room and sitting area a display case has elegant jewelry by David Alcala from California.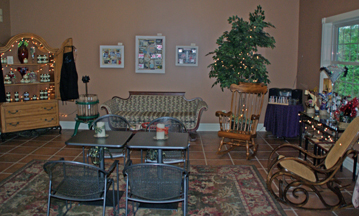 Four Spring Winery is owned and operated by a team of three: Lloyd and Leroy Mortorff and Charles Aldinger. The name, Four Springs, was derived from the four springs located in the vineyards. The winery is open to the public Fridays, Saturdays, and Sundays.
Three acres of grapes with 2,700 grapevines are in the Airville vineyard. Wine varieties in the vineyard include Cabernet Franc, Cabernet Sauvignon, Chardonnay, Chambourcin, Merlot, Riesling, Vidal, and Bianca. The winery also sources grapes from local wineries and a very little from out of state. Currently, Four Springs produces about 4,000 cases.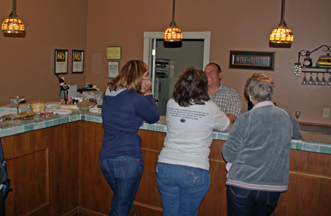 White Wines
Chardonnay 2008 was a light yellow with an aroma of apple with pear nuances. The taste had apple and pear notes with a hint of caramel. The finish was crisp with multiply layers of green apple and caramel. Dry Riesling, a straw color, had notes of grapefruit. The crisp finish had grapefruit notes with a hint of apricot.
Red Wines
Chambourcin had red and pink hues. The aroma offered raspberry notes while the taste was of raspberries and cherries. The finish was crisp with mild tannins. Cabernet Franc was dark red with notes of black fruit. The crisp finish with mild tannins had pepper hints. Sweet Crossing was mostly Chambourcin with a bit of Cabernet Sauvignon. The light ruby wine offered an aroma of light cherry with a taste that included cherry and oak nuances. The finish was very slightly sweet with mild tannins and cherry notes. Fat Cat with eight percent residual sugar, was a cherry color. The wine was very sweet like Welch's grape juice.
City Kitty, a Vidal wine, with 10 percent residual sugar was a dessert wine. It was very sweet and full bodied. Good for sipping after dinner.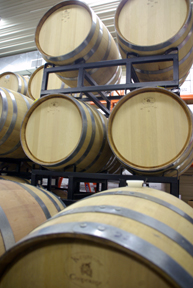 In the winery, located behind the tasting area, the winemaker follows traditional wine making techniques. Wines remain at the same temperature from start to finish. He wants the wine to follow the character of the grape. The owners are firm believers in using oak and stainless steel, not plastic. Fermentation is done for as long as possible and on the skins as long as possible.
Four Springs offers a comfortable and welcoming atmosphere. Visitors will feel at home. Enjoy your visit.
Four Springs Winery
50 Main Street
Seven Valleys, Pennsylvania 17360
GPS: N39º 51.229' W76º 46.275'
---