The Winery at Wilcox
by
Kathy Sullivan
Summary: Enjoy a visit to The Winery at Wilcox where you will discover friendly staff members, sparkling wines and still wines. The tasting room is cozy with numerous wine related items to browse while visiting. The winery is open Sunday thru Saturday from 10 a.m. to 6 p.m.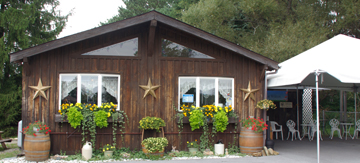 The Winery at Wilcox can be accessed near the Allegheny National Forest. After passing acres and acres of wooded hills and mountains, travelers reach the boutique winery set back from a country road. Large window boxes decorated the front of the winery while a white tent provides space for enjoying a glass of wine outside. Nearby benches are also available.
The winery opened in 1994 under Mike and Carol Williams. Their first vintage was over 460 cases. Today while they own the winery with their son, Jamie Williams, they also own the winery, Winery at Versailles in Versailles, Ohio, where they spend the majority of their time.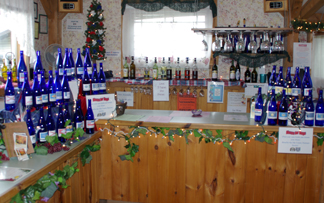 We were delighted to meet Jamie, who after our tastings gave us a detailed tour of the winery. The Winery at Wilcox has two additional tasting rooms in Pennsylvania and sells wine wholesale. The other tasting rooms are at The DuBois Mall in DuBois, Pennsylvania and The Nittany Mall in State College, PA. Currently they produce 23,000 cases of wine, with Clarion River Red one of the favorite wines. Wines include red, white, blush, dessert and sparkling wines.
Events
The winery offers a variety of different events. Two of the fundraiser events in 2009 were dedicated towards helping dogs and the 1st Annual Wine & Cheese Party (held at Bavarian Hills Golf Course) to help a Scholarship Fund & Hearing and Sight Program. Another unique event is an author signing. Ann McCauley who wrote Runaway Grandma is available on September 20, 2009. Check the winery website or contact the winery to find out about more events.
Sparkling Wines
Celebration, a Catawba grape wine, was a light pink color. The semi-sweet taste was light and fruity. The finish was also fruity. Peach Mist offered a delicate peach aroma with a fresh peach taste. The finish was crisp with a long aftertaste that offered peach nuances. This wine was made with 100 percent peaches. The Blueberry Mist sparkling wine offered a fresh blueberry aroma and taste with a long blueberry aftertaste.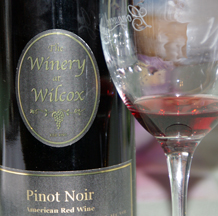 Red Wines
Pinot Noir produced from grapes sourced from the Finger Lakes was a red translucent color with a red fruit aroma. The smooth taste offered cherry notes. The finish was crisp with cherry nuances. Clarion River Red was a dark pink. The taste was sweet. The finish and taste had nuances of red summer fruit. Peter Winkbauer, a local artist and teacher created the label.
We had the opportunity to taste two red wines not ready for bottling quite yet. Cabernet Sauvignon offered an aroma of pepper and blackberries. There were nuances of blackberries on the taste. The finish was fruity with tannins. Merlot was earthy with a black fruit and spicy taste. The crisp finish had tannins.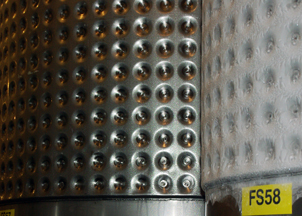 White Wines
Chardonnay was a pale yellow with an aroma and taste of pear. The finish was crisp and fruity. The Viognier was clear with a floral and peach aroma. The taste offered notes of peach while the finish was crisp. Elk County White, a Cayuga grape wine, was a clear wine with an aroma of citrus. This is a crisp semi-dry wine. Suggested pairings include seafood, white sauces on pasta and fowl. Dave Love, an artist from Elk Country created the label. Wedding White produced with the Catawba grape, was a clear color and offered a slight aroma of light fruit. This wine has been served at weddings. Suggested uses include with dinner or cheese and crackers.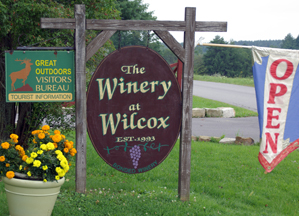 If you are in western Pennsylvania, consider stopping at The Winery at Wilcox. Plan to purchase a glass of wine and enjoy it while browsing the gift selections or outside in the fresh countryside air.
The Winery at Wilcox
1867 Mefferts Run Rd
Wilcox, Pennsylvania 15870

GPS: N41º 33.477' W78º 40.224'
---