Wyndridge Farm
by
Kathy Sullivan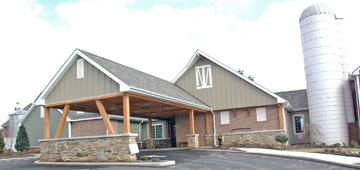 Summary: Located just outside of Lancaster, Pennsylvania, Wyndridge Farm is a multi-purpose beverage and large event facility. Visitors have the opportunity to taste ciders, beers, wines and soda.
The original farm was purchased by the Groff family twenty years ago. At the time it was a 20-acre cattle farm with fields of grains and a thoroughbred horse farm. Eventually the question of "what to do with the 120 year old bank barn" came up. Leaving the medical field behind the Groffs embarked on an exciting journey. Three and a half years ago the Groffs decided to renovate the large barn and added additional spaces. Wyndridge opened in September 2014 and offers a cidery, brewery, restaurant, tasting counter and a spacious event room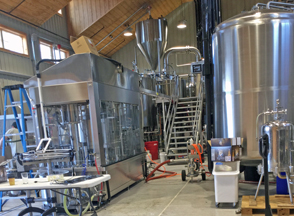 Today Wyndridge Farm operates as a beverage producer including beer, cider, soda and wine. With the exception of wine everything is produced onsite. Visitors to Wyndridge will find an elegant and cozy restaurant with a large kitchen, a tasting counter and event rooms.
The original barn is a large event room with the original beams strung with numerous lights that adds a sense of celebration. According to Taylor Groff, a son, the winery has hosted 45 weddings since it opened.
Wyndridge is a busy place. Immediately after opening the owners realized that the parking lot was not large enough and are adding an additional parking area.
Upon entering the facility, visitors will find a small shop to the left. Beyond is a large open kitchen. A tasting counter separates the restaurant from the kitchen. The tasting counter overlooks the kitchen where a pizza oven can be seen as well as the numerous activities taking place in the kitchen.
Beverages at Wyndridge Farm
Wyndridge has an onsite brewery and cidery. The farm has an offsite license for producing wine at a nearby winery. Scott Topel is the cider master and Jared Barnes is the brewmaster.
A bottling machine in the production area, with a 3,000 bottles per hour capacity, is used for bottling beer, cider and soda. All ciders are produced with apple juice sourced from five miles away. All ciders are carbonated.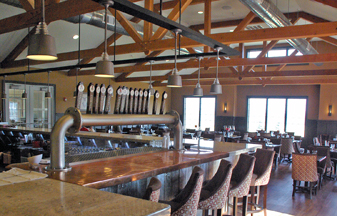 Ciders
Original Cider was a blend of five different apples primarily Stamen Winesap and Golden Delicious. The cider was carbonated and offered many large bubbles. The cider was dry with apple notes. Cranberry Cider was made with a combination of apples and cranberries. The cranberries are sourced from Wisconsin. The Dry Hopped Cider with 5.5% alcohol was produced with Cascade hops. The cider offered floral and apple notes with a long floral aftertaste. Jonagold Cider had 8.1% alcohol. The cider had an apple aroma and taste. This cider was crisp and refreshing.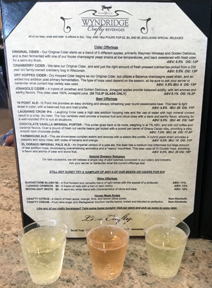 Wines
Moonlight Light White was a blend of Chardonnay and Vidal. The wine was 12% alcohol. This semidry wine was smooth with hints of pear, citrus including lemon and lime. Cunning Crimson was a blend of Chambourcin and Merlot. It was a dark ruby color with notes of dark fruit including black raspberries and black cherry. The wine had mild tannins. The Barnstorm Blush with 11% alcohol was an easy drinking wine. It was sweet and reminded one of punch.
Beer
The 10 Point Ale with 4.8% alcohol was an approachable all-season beer. The beer had a golden color. It offered floral notes and was medium bodied. This beer had nuances of hops and malt.
The restaurant menu includes: soups, salads, brick oven pizzas and flatbreads, seafood plates, meat plates, and vegetarian plates plus much more.
Enjoy visiting Wyndridge Farm for a beverage tasting or dinner. Also consider hosting your special event at this location.
Wyndridge Farm
885 South Pleasant Ave.
Dallastown PA 17313
GPS: 39º 53.070' W76º 38.922'
Article written March 2015
---