Red Shale Ridge Vineyards
by
Kathy Sullivan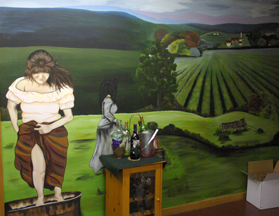 Summary. Red Shale Ridge Vineyards is a small family winery north of Harrisburg, Pennsylvania, just minutes off Interstate 81. They offer a wide range of wines including reds, whites and fruit wines.
On the way to Red Shale Ridge Vineyards from Interstate 81, wine travelers drive for six miles on curving roads that eventually turn downward. The drive takes one through two small villages and eventually on to Hegins. The small boutique winery is on the outskirts of the town in the countryside.
After parking, visitors to the winery will discover that the tasting room is located below an event area next to the owner's home. We met Tom Stutzman and his daughter Kaitlyn. Tom is the owner and winemaker. Kaitlyn works in the vineyards during the summer pulling leaves and pruning. She also helps out in the tasting room.
The tasting room is small but the ambiance is apparent. Near the tasting counter a table for four adds a welcoming touch. The striking note is the wall painting of a vineyard and a woman stomping grapes. This painting as well as two others add to the romance of the winery.

Tom has been interested in making wine since he was 18 when a cousin made wine and asked him to try it. Tom has been making wine ever since. Tom's fascination with wine involves the growing of grapes and the winemaking process. Tom notes "In this business people want to help you."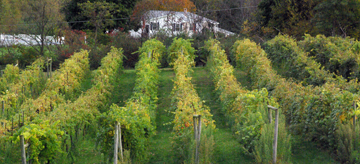 Vineyards
Tom grew up in Schuylkill County where Hegins, Pennsylvania is located. In 1986 he and his wife purchased this small farm property which had a large stand of pine trees all planted in rows. Tom and his wife visited the Lake Erie Wine Region in North East, Pennsylvania, and thought that if they can successfully grow grapes in that region, we can grow grapes here in Hegins. After taking the pine trees down, they began planting several different varieties of grapes. Today the vineyard has plantings of Chambourcin, Pinot Grigio, Traminette and Riesling on three acres. For years Tom sold grapes to other wineries.
The winery was excavated and constructed in 2007. Red Shale Ridge wines began to be sold the same year. The wines are made in stainless steel tanks. The winery area is underground. It keeps cool temperatures relatively stable throughout the year.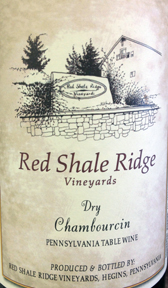 Wines
In addition to using their own grapes, Tom purchases about 95 percent of his grapes from wineries in North East, Pennsylvania. A few grapes are also obtained from New York's Finger Lakes region. About 6,200 gallons or about 1,900 cases of wine are produced at Red Shale Ridge. Tastings are done with small plastic cups.
Chambourcin, made with grapes from the onsite vineyard, was a dark ruby wine with earthy, dark fruits and mushroom notes. This wine would be very good for food pairing especially pasta. Riesling 2011 was produced with grapes from the estate vineyards and from North East, Pennsylvania. The straw color wine offered some apple and flower blossom notes. The finish was crisp with different fruit salad notes. Elderberry wine was red and reminds one of walking in a forest after a rain. The taste was of elderberries. Fredonia 2011 was sweet and grapy. The wine brought back memories of homemade grape juice mixed with a little ginger ale.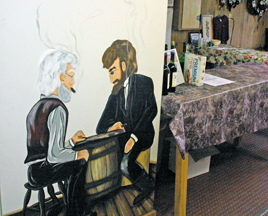 Availability
Red Shale Ridge wines are available at the winery, Pennsylvania festivals and farmers markets. The two farmers markets are Renningers Farmers Market in Schuylkill Haven and Lebanon Farmers Market in Lebanon.
With a portfolio of dry and sweet wines as well as wines made from grapes and fruit, visitors will find something they like. Visit this laid-back boutique winery and enjoy spending time in a country setting.
Red Shale Ridge Vineyards
266 North Goodspring Road
Hegins, Pennsylvania 17938
GPS: N40º 39.822' W76º 30.005'
Article written October 2012
---