Big Creek Vineyard
by
Kathy Sullivan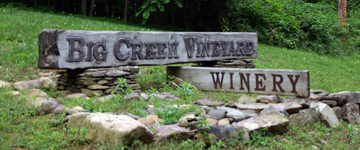 Summary: Big Creek Vineyard is a quiet place in the mountains where one can taste wines produced with grapes that grow well in this area of Pennsylvania. The winery and vineyards are located on the south face of the Pocono Escarpment.
We started the morning off with a delightful drive through parts of the Delaware Water Gap National Recreation Area to arrive at Big Creek Vineyard. The winery facility is set on a hill adjacent to several acres of grapevines. From the outside, the tasting room is of a simple design with white stucco. Inside we discovered a hidden gem - a tasting room that is simple and elegant. The tasting counter, office and event space are designed with open features. The wood A-shaped ceiling adds to the airiness of the facility. A partial wall allows one to look over and observe the winery operation below.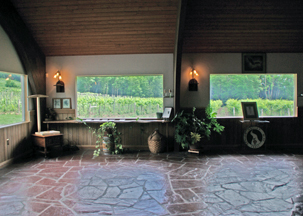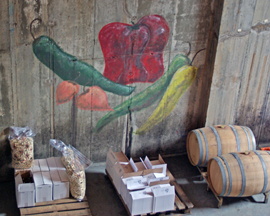 Big Creek Vineyard is a family owned and operated winery creating handcrafted wines. Dominic Strohlein is the owner and winemaker. He focuses on producing quality wines with the grape varieties that do well in this area.
Dominic traces his interest in producing wine back to when he was in college and did not like university food. He learned to cook. Dominic also discovered that wine is better with food. He began making wine as a hobby. Later he planted some grapevines and made wine from his grapes.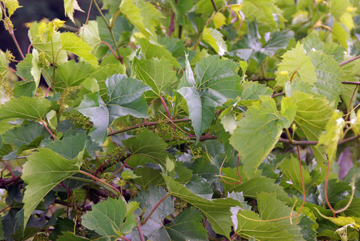 Vineyards at Big Creek
The 16 acres of vineyards are located in soil that consists of shale and slate. Drainage is very good. The main grape varieties include Seyval Blanc, Chambourcin, Marechal Foch, Frontenac, and Regent. Dominic started the vineyards 20 years ago when the wine industry in the area was very young. In the 20 years he has pulled out the vineyards and replanted them three times. The first plantings were with grape varieties he enjoyed like Cabernet Sauvignon. These grapes had a difficult time ripening. Dominic noted, "It is better to have a ripe hybrid than an unripe vinifera." He also commented that aromatic whites do well in Pennsylvania.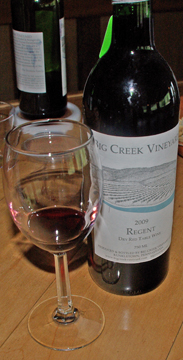 Big Creek Wines
Currently the winery produces 2,500 cases and Dominic would like to increase to about 5,000 cases. Dominic remarked that if you want to get to know why your wine tastes like it does, you need to know microbiology. He also noted that routine in the vineyard and winery are very important to making good wines.
Seyval Blanc 2009 was a light pale yellow. It was dry and the fruit lingered. This white wine would pair well with entrees. Moonlight White 2010 was pale yellow with a mild aroma of fruit. The wine was dry with a hint of sweetness from the fruit. La Brusca produced with Concord grapes was a beautiful red color. The wine was sweet. Dominic chose to use grape concentrate to sweeten the wine to four percent residual sugar. Suggested uses for La Brusca included making Sangria. Apple Raspberry was a dark pink. There was an aroma of raspberries. The taste was sweet and fruity. Pair with cheesecake or ice cream.
Rosé Wine

Vin Di Pasqualina was a rosé. This was a blend of Niagara, Chambourcin, and Seyval Blanc. The light orange colored wine had notes of Niagara on the aroma and taste. The finish was crisp and mostly dry with one percent residual sugar. Serving suggestions included ham or turkey and cranberries.
Red Wines
Marechal Foch 2009 offered an aroma of red berry fruits. There were notes of raspberries and strawberries with a hint of oak. The fruity finish offered very mild tannins. Regent 2009 was dark purple with a ruby rim. The aroma was aromatic and spicy. There were spices on the taste. The finish had dark fruit notes and mild tannins.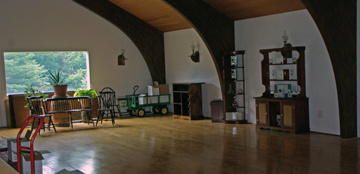 Events
The tasting room is large with plenty of space to meander while tasting wines. Big Creek Vineyard is a member of the Lehigh Valley Wine Trail and participates in the Wine Trail's events.
Big Creek wines are available in the tasting room at Big Creek Vineyards and at their shop at 27 Race Street  (Historic Stone Row) in Jim Thorpe, Pennsylvania. Visit this winery and discover the passion in every bottle.
Big Creek Vineyard
Keller Road
Kresgeville, Pennsylvania 18333
GPS: N40º 53.771' W75º 31.083'
---