High Rock Winery
by
Kathy Sullivan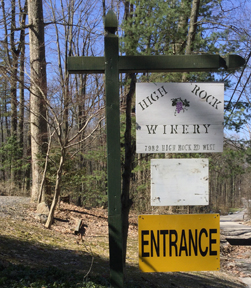 Summary: High Rock Winery located in the outskirts of Hanover, Pennsylvania offers a friendly welcome. Visitors will find a large portfolio of wines from which to choose including dry red and white wines, sweet wines and fruit wines. High Rock Winery is a member of the Mason Dixon Wine Trail.
High Rock Winery, on the outskirts of Hanover, Pennsylvania, is a small boutique winery with a focus on sweet grape and fruit wines. The winery was named for its location at the highest point in Pigeon Hills. The winery is located in the home of the owners and winemaker, Cindy and Steve Sterner.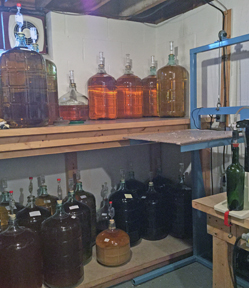 The production area is located in the lower portion of their home. The winery produces about 800 gallons (234+ cases) of wine. The tasting area is in a small room behind the garage that is now a dedicated winery event area. High Rock Winery participates in the spring Tour de Tanks trail event and the Just Off the Vine event in the fall.
Cindy and Steve Sterner work hard to take care of all wine production. Cindy initiated the idea of producing her own wines when she was unable to find the type of sweet wines she enjoys. Cindy is the winemaker and enjoys experimenting with wines made from different fruits. Steve continues to work a full-time career but helps Cindy every weekend and whenever necessary. Steve created and built a lift for heavy loads that also helps in the winery.
Cindy began her winemaking experience with a gallon of apple wine. She enjoyed the results and wanted to continue winemaking. Her next wine was a strawberry wine made with strawberries grown by her brother. Today Cindy and Steve are producing wines with local Pennsylvania fruit.
The winery opened commercially on April 1, 2009. The winery operation has overtaken much of the Sterners' home including the basement and garage. Cindy noted that she does not have room to age wines.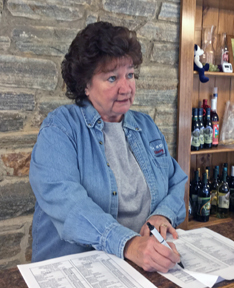 Today Cindy and Steve work together to create a large portfolio of dry and sweet wines. They are always experimenting with new wines to discover what their consumers will enjoy. Currently their best selling wine is the Black Lab made with black raspberries and Concord grapes.
Grape varieties used in High Point wines include Niagara, Concord, Seyval, Chambourcin, Cabernet Franc, Vignoles, Vidal and Kerner.
Fruit used for wine production includes peaches, apples, raspberries, strawberries and elderberries. Since Cindy uses fruit wines for some of her production, she is able to produce wine all year. Cindy enjoys creating wines using blends.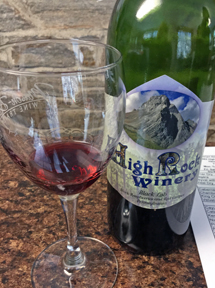 Wines
Velvet (Black Raspberry) with 14% alcohol was a translucent red color. The wine offered notes of black raspberries. The wine had a long fruity aftertaste and dried on the finish. Beaver Creek, a semi-sweet wine, is named for the creek that is a mile down the road. The photo on the label is of the creek. This wine was a blend of Concord and Niagara grapes and had 10.5% alcohol. The wine was a light red/pink translucent color. The aroma was of Niagara grapes and floral. The taste was floral and gamey (foxy). Black Lab (pictured) is the winery's best seller. This wine is a blend of black raspberries and Concord grapes. With 9% alcohol the wine was sweet throughout the taste. The translucent dark red wine offered a fruity taste that lingered.
Winter Passion was a blend of Niagara and Riesling. This wine was a light yellow color with a Niagara grape aroma. The taste had notes of floral, Niagara, peach and honey. Elderberry was a bright cherry red color. The wine offered fresh elderberry notes. The wine was sweet with a hint of tartness on the end. Elderberry was fruity on the finish and had a long aftertaste. Pigeon Hill Punch was a translucent red. It was a blend of Chambourcin, Niagara and Seyval, The wine is light red and fruity. This is a very easy drinking wine and Cindy noted with a smile that, "Some people say this is dangerous."
Scheduled tasting room hours are limited; however, visitors are encouraged to call and visit anytime. Appointments are always welcomed.
High Rock Winery
7982 High Rock Road W
Hanover, PA 17331
GPS: N39º 51.601' W76º 57.122'
Article written March 2015
---