Spyglass Ridge Winery
by
K. L.Sullivan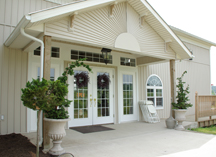 After traveling a short distance beyond Sunbury, Pennsylvania we drove past a stone home built in 1814. A pebble covered driveway lead us past a large renovated farm building. This is Spyglass Ridge Winery. The entrance to the building is in the back and faces fields of grapevines. To the side and down a hill is a large pond with a picturesque tree. Weddings frequently take place here. A deck attached to the winery overlooks the pond.
Intrigued by the name Spyglass, we asked about it. Tom and Tammy saw a housing development near Allentown with the name Spyglass and liked it, but it was when they heard the word spyglass again they thought it was an omen for their new winery name.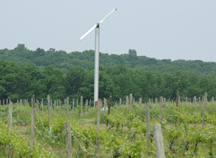 Spyglass Ridge Winery is the story of an extremely hard working family striving for the American dream. Purchasing the farm from her grandparents in the mid 1990's shortly after being married, Tammy and Tom have renovated the farmhouse and barn, one section at a time. After purchasing the property, Tom and his father traveled from their homes two hours away, every weekend for six years to work on the property and plant 14 acres of grapes. Today the grape varieties grown are Vignoles, Chambourcin, Cabernet Sauvignon, Riesling, Gewürztraminer, Chardonnay, Vidal, Cabernet Franc, Seyval and Pinot Gris. A wind fan was recently added to help protect the grapes from a late spring frost.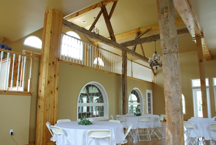 Today when one enters the elegant tasting room, it is difficult to believe it was once a barn. Taking a closer look, one will see a few exposed beams from the old barn. Windows placed along one wall look down over several stainless steel tanks and one fiberglass tank. Tom showed us downstairs where oak barrels are aging wine. At Spyglass Ridge Winery, the wines are handcrafted and there is no rush in getting them bottled for the public. The goal at the winery is to produce the best quality wines possible. Tammy took great care in deciding the decorating of the tasting room. With large white-framed windows, yellow walls and two levels the tasting room is bright, spacious and captivating.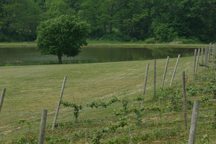 Spyglass Winery has several events including festivals. The latest festival was a Blues Festival and Mustang Rally in May. The Celtic Festival will be the last Saturday of August. The winery goes all out for this festival and last year had Highland cows, a falconer, music, food-vendors and much more. Other area wineries join Spyglass Ridge for the Celtic Festival.
Many private events occur here throughout the year. While the tasting room can hold about 136 visitors, if more room is needed a large tent can be set up outside near the pond and in view of the vineyards.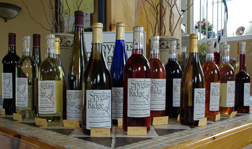 Tom produces a number of fine wines, including grape wines and fruit wines. His philosophy towards winemaking is minimalist. We had the opportunity to taste several wines including the Riesling-Traminer 2005, Riesling 2005, Cassie's Blush 2005 and Stueben Blush 2005. With 70% Gewürztraminer and 30% Riesling, the 2005 Riesling-Traminer has wonderful flavors. Cassies's Blush 2005 is Chambourcin with fruit flavors and easy to drink. Tom pressed the Chambourcin after harvesting and the wine gained its blush color from the berries rather than the skins. The most unusual fruit wine is a kiwi wine. Tom believes that he is the only one producing kiwi wine in the world. Other fruit wines include Strawberry 2005, Red Raspberry 2005 and Tommy Appleseed (sold out.) If you would like to try any of these nineteen wines, be sure to visit the winery. All wine is sold directly from the winery tasting room.
Tom and Tammy own and manage the winery while working other full time jobs. They have two young children. Tom's father and mother, who live nearby, assist them.
The winery will be celebrating its third year of opening in November 2007. Immediate plans are to add a gift shop and another wine tasting bar. Next spring, the winery will add another eight acres of grapes. The owners of the winery intend to limit production to 7000 cases. It is important for them to keep the winery small enough for a hands-on size.

We enjoyed watching as visitors came by to purchase wine and there was a friendly hello to everyone.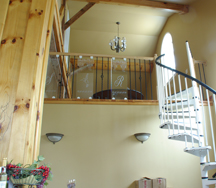 Despite the hard work, Tom and Tammy are proud of what they have accomplished. They offer visitors a great experience and fine wine. Tammy talks with pride of the renovations that have taken place on the property and Tom mentioned an experience he had recently. Tom was outside at night spraying his vineyard. Off in the distance he saw lightning and clouds. Overhead the skies were clear with stars shining brightly. How many of us can say we have had that unique experience?
If you are planning an event, check out Spyglass Ridge Winery. The hard, difficult work of the past has paid off for Spyglass Ridge Winery and we believe you will enjoy a visit to the winery.
Spyglass Ridge Winery
Sunbury, Pennsylvania
GPS N 40° 50.969' W076° 43.861'
---