The Vineyard at Grandview
by
Kathy Sullivan

Summary: The Vineyard at Grandview in Mount Joy, Pennsylvania offers a view from its hillside location of sloping vineyards and the area's countryside. The winery produces a wide variety of wines varying from dry to sweet. Visitors will discover a large tasting room with plenty of seating.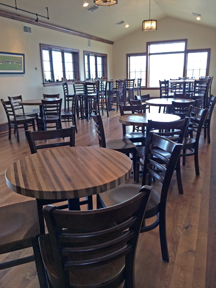 Visitors to The Vineyard at Grandview will discover a large rustic-sided building containing the winery and tasting room. A delightfully large tasting room with numerous large windows overlooks the valley and vineyards. The tasting room is elongated with numerous round tables with seating for four to six visitors at each table. Consider purchasing a bottle of wine to share and sip it while enjoying the atmosphere and countryside views.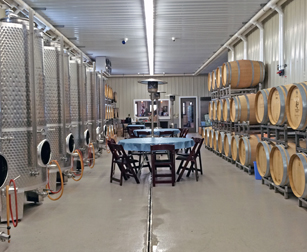 Larry Kennel (pictured below), winemaker and general manager of The Vineyard at Grandview, is friendly and knowledgeable. Larry's professional career is as a veterinarian specializing in embryonic transfer in cattle. He provided us with a visit to the winemaking area of the winery where we discovered half-size stainless steel barrels, an old stainless steel milk tank and aged whiskey barrels. Larry had recently attended the trade show in Syracuse, New York where he purchased equipment.
Aged whiskey barrels were set aside from the new wine barrels. The whiskey barrels are filled with cherry wine. Larry anticipates that the cherry wine will gain some vanilla nuances and also soften. He is producing this cherry wine in honor of his grandfather who had a cherry tree and had whiskey.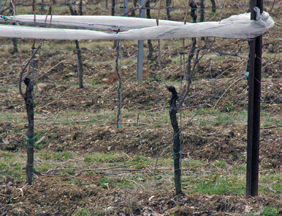 Grandview Vineyards
The vineyards were started in 2009. In 2015 five acres are planted with Cabernet Franc, Petit Verdot, Cabernet Sauvignon, Merlot, Pinot Noir, Chardonnay and Albarino. The soil in the vineyards is Bennington loam soil. In 2010 Larry planted Cabernet Franc and Chardonnay. Albarino was planted in 2012. All vineyard work including pruning is completed by hand.
The family is involved with the winery and vineyards. Sarah and Fran, Larry's two daughters work with marketing, events and tasting room staff. Fran's husband Steve Kratz works as the equipment manager. Sarah's husband Scott Haines, a plumber by trade, installed the chilling system and helps with the plumbing.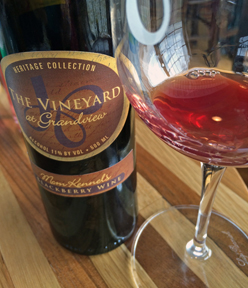 Grandview Wines
Chardonnay 2013 was produced with estate grown grapes. The yellow wine with 13.5% alcohol was fermented and aged in oak on lees. The wine offered notes of apple, pear, and oak with hints of caramel. Suggested pairings included lobster, corn soufflé, grilled fish and Teriyaki pork. Riesling 2013 was off-dry with nuances of petrol and fruit. The wine was crisp and the taste lingered. Suggested pairings included seafood and duck roast. Moscato with 12% alcohol was a pale yellow. This semi-sweet wine offered a light aroma and an intense taste of fruit especially peach. Ambrosia was a beautiful pink color with a sweet taste. It would be perfect as a 3P wine (patio, porch, pool) and also paired with food.
Pinot Noir 2013 was translucent red with an orange hue. This estate grown wine had 13.5% alcohol with notes of berry fruit including raspberry. The wine had mild tannins and was crisp. Crimson Quartette 2013 was a blend of Merlot, Cabernet Sauvignon, Cabernet Franc and Petit Verdot. The translucent dark ruby wine offered dark fruit and leather notes. The wine had tannins and was crisp. Cabernet Sauvignon 2013 was a dark ruby color (barely transparent). The wine offered black berry, cassis and leather notes. The wine had bold tannins and a long aftertaste. Cabernet Franc 2013 was a dark ruby color. The wine had notes of black cherry with some plum and tannins.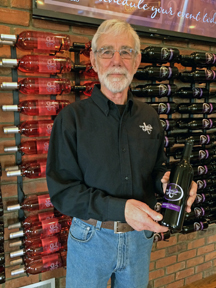 Blackberry, a red wine, had 8% residual sugar. However, the wine did not taste quite as sweet as the residual sugar would suggest. As one would expect the wine offered notes of blackberries. Larry noted that the blackberry is also called a Marion berry.
In addition to the more traditional wines produced at The Vineyards of Grandview, Larry also creates wines for the Rock Candy Gem Collection. These wines are sweeter and Larry considers these to be fun wines. Current production in the series includes Ruby Red and Sapphire White. Diamond Dust, a sparkling wine, will be available soon.
Stop by the large tasting room and plan to stay awhile to relax and enjoy the countryside views and the vineyards sloping below the tasting room. During warm weather enjoy a glass of wine overlooking the vineyards
The Vineyard at Grandview
1489 Grandview Road
Mount Joy PA 17552
GPS: N40º 08.955' W 76º 31.912'
Article written March 2015
---