Lancaster County Winery
by
K.L. Sullivan
Summary: If you live in the Lancaster County area and need a place to host an event, you may want to check out the Lancaster County Winery.
Fog covered our drive to the Lancaster area of Pennsylvania, at times so dense that the countryside faded away. We wondered if this was a foreshadowing of a winery that may also be fading away, and is concentrating on reinventing itself as an events' facility. Upon arriving at Lancaster County Winery, we learned that the vineyard was pulled up and replanted with corn. The owners, Todd and Suzanna Dickel, have not decided what grape varieties to replant. Todd did not share the case production of his winery as he said that production varied greatly. We did not have a wine tasting. Consider calling ahead to see if they will be offering tastings before you go.
Todd mentioned that Lancaster County was the wine capitol of the US during colonial times. Outside of the wine tasting room, located in a large white barn with large cornfields nearby, is winemaking equipment on display. The equipment is labeled for easy identification. Visitors see a grape crusher and stemmer, grape conveyor and a grape hopper.
The large barn with a foundation from 1812-1813 was rebuilt in 1902. Owners in the early 1970's renovated the barn to create several rooms. After Todd and Suzanna Dickel purchased the property in 1979, they remodeled the barn into three main separate rooms.
Upon entering the main tasting room, one sees walls lined with "antique" tools that were purchased at auction. A large tasting bar is available for hosting large groups. On another counter, a lovely book displays wedding events and features available for special events.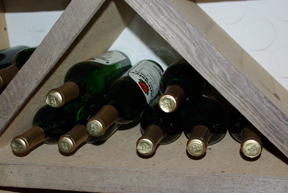 To the right is a shop, various items are for sale including wine. Their wine is only available at the winery. A glass display case features fragile "antique" items for sale. Other such items line the counters around the room. Various styles of baskets are available. A deep picture frame displays old corkscrews.
To the left of the tasting room is a large event room. Modernized and with paintings on the walls, this makes a bright and cheerful room for events. According to Todd, the winery has rented the room out for weddings, receptions, showers and more.

Shortly before leaving, Todd noticed our interest in another display case. At first, it appeared to be a highly decorative cane. Todd explained that the cane was hand carved by someone prior to the Civil War in Alabama and represented the "evils of alcohol." Starting at the top, the carving shows the planting of grapevines. Further down depicts the drinking of wine, then gin, followed by rum. At the very end, the serpent takes over entirely and the drinker is left penniless. When you visit Lancaster County Winery, be sure to ask to have this carving pointed out.
GPS N39° 56.116' W 076° 16.901
---