Kreutz Creek Vineyards
by
K.L. Sullivan
Summary: Kreutz Creek Vineyards is owned by Carole and Jim Kirkpatrick who are a delightful down-to-earth couple who enjoy wine. Jim is the winemaker and a wine judge with an excellent palate. Carole is the full time "detail and marketing" person. They produce a variety of wines and offer "something for everyone."
Little did Carole realize what the future would bring when she gave Jim a winemaking kit for his birthday in 1989. It was not long before Jim was winning awards with his wines. Today, 18 years after receiving the kit, the result is a home basement turned into a winery and tasting room.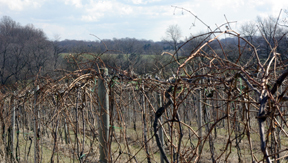 Kreutz Creek Vineyards opened in 2003. Currently all grapes used in their wines are estate grown. Fruit for fruit wines such as Red Raspberry are purchased. Jim produces an ice wine when the weather cooperates. Two years ago he was able to produce an ice wine. Last year, by the time the area had freezing weather, the grapes were no longer good. Despite the difficulty of producing ice wine, Jim and Carole prefer producing a true ice wine as compared to an iced wine.
Today there are eight acres of grapes including Cabernet Sauvignon, Cabernet Franc, Chardonnay, Petit Verdot, Chambourcin and Niagara. Plans include building a large pavilion for summer concerts, increasing grape acreage and building a bed and breakfast.
During the summer of 2007, four concerts were held on the estate. Their plans for 2008 is to have more concerts, possibly every other Saturday from six to nine. Tasting rooms are also located in Media and West Chester, PA.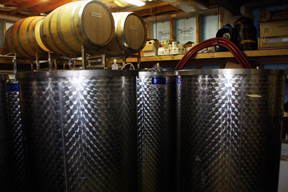 When visiting the winery, a long driveway takes you past rows of grapevines. Visitors enter into a side door and proceed down a set of cement steps. Walls are decorated with pictures and grape lights. Entering the tasting area, tables are set up for tastings. On the day of our visit, several days before Valentine's Day, a small crock-pot was warming chocolate for dipping pretzels, marshmallows, pound cake and strawberries. Wine barrels and stainless steel tanks fill one section of the room. The ceiling is high and can accommodate stacking barrels and the stainless steel tanks.
Several shelves of gift accessories are available in the tasting room. Many decorative wine bottle "stoppers," are available to choose between. Be sure to browse the shelves and you will find unusual handmade items. Delightfully, scented handmade candles, pens and wineglass tags can be discovered. Berry Patch Products are also available including jams and mustards.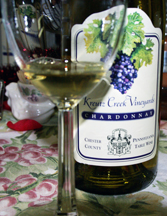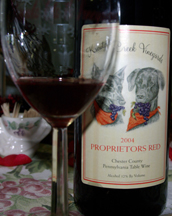 Overall, the best selling wines are Rosé and Kordeaux. We tasted several wines while visiting with Carole and Jim. Vidal Blanc had a floral nose. It was fruity and dry on the finish. It gave an impression of sweetness from the intense fruit. The stainless steel aged Chardonnay had a classic Chardonnay nose, was medium bodied and had a pineapple taste. Whereas the oak aged Chardonnay had a vanilla nose, was medium bodied with an oak and fruit taste. It had a buttery aftertaste. Chambourcin had a red fruit nose and flavor. It was dry with a cherry taste and a raspberry finish. Proprietor's Red was a blend of Chambourcin, Cabernet Sauvignon, and Cabernet Franc. The result was a fruity nose with red fruit flavor. Cabernet Franc had a pepper nose with fruit and pepper on taste and finish. Kordeaux was a blend of Cabernet Sauvignon, Cabernet Franc and Merlot. It had red fruit and pepper taste. Wickerton Red had pepper on the nose and tasted of dark red fruit. There was an earthy and pepper finish.
Carole and Jim are looking toward the future with plans for a pavilion behind their home that will host music events, receptions and more. We look forward to a return visit as they progress to fulfilling their dreams. As their advertising card says, "Built on dreams with determination…."
Kreutz Creek Vineyards
553 S. Guernsey Road
West Grove, PA 19390
610-869-4412
GPS 39° 47.571' W 075° 49.828'
---