West Hanover Winery
by
Kathy Sullivan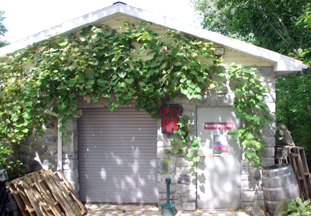 Summary: West Hanover Winery's, owner, George Kline, wants to focus on producing quality wines with few additives. The winery and tasting room are in Harrisburg, Pennsylvania. West Hanover Winery is a member of the new Mason-Dixon Wine Trail. A second tasting room is near Philadelphia where a huge selection of West Hanover wines is available.
For George Kline, owner and winemaker, winemaking is his second career. George had been producing wine as a hobby. Eventually more of his friends wanted wine and he needed to begin charging for it after having gained his winery license in 1988.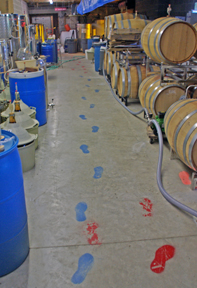 Located in Harrisburg, Pennsylvania, West Hanover Winery is a member of the Mason-Dixon Wine Trail. To find the West Hanover Winery tasting room, visitors will park in the small area in front of the winery. Upon entering the winery follow the painted red and blue footsteps that will lead to the tasting room.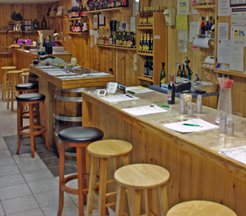 The honey tones of the wood paneling in the tasting room offer a warm feeling. There are three sections to the tasting counter. Visitors can sit at the counter on bar stools. Behind the tasting room and production area, there are vineyards that are an oasis in this residential area.
Vineyards
The two acres of vineyards are nestled between homes in West Hanover Winery. They are home to some of the oldest grapevines in this area of Pennsylvania. Some of the Concord grapevines were planted by George Kline's father 53 years ago. Other grape varieties are 35 years old. Today the vineyards are filled with Concord, Chambourcin, Baco Noir, Steuben, Cayuga, Aurore, Valiant and King of the North. The last variety, King of the North, is a cold hardy grape in the labrusca family.
George recalls that his father's vineyard was not used for winemaking but for his mother's canning of grape jelly and grape juice.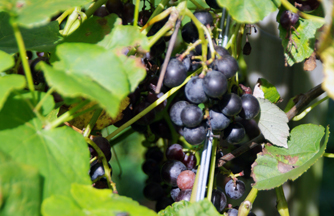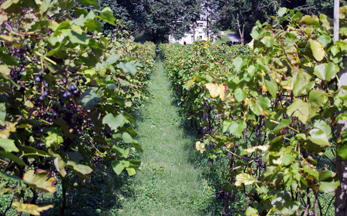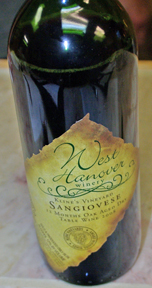 Wines of West Hanover Winery
Tastings are served in small plastic cups. Chardonnay 2007 was barrel aged. The color was golden. This wine was fermented on skins for seven days. The aroma had slight apple nuances. The wine was very smooth with a caramel taste and a hint of candied caramel apples. Majestic Eagle was a blend of white grapes. The color was burnt orange. The aroma reminds one of dried fruit especially raisins and the taste was of jammy fruit. The finish offered multiple fruit jams.
Midnight Delight was a dark purple produced with Chambourcin and distilled spirits. The wine was 18 percent alcohol. The aroma and taste reminded one of cherries, blueberries and blackberries. There was a little alcohol heat on the fruity finish. Baco Noir was dark purple. Blackberries and plum notes were on the aroma. The fruity taste had tobacco overtones. The finish had mild tannins and was fruity with a bit of tobacco.
Visitors will discover a wide range of wines in the tasting room. While visiting West Hanover Winery be sure to ask about the North of the King wine, a grape variety not found at many wineries.
West Hanover Winery
7646 Jonestown Road
Harrisburg, Pennsylvania 17112
GPS: N40º 20.609' W76º 43.829'
---
Visit this Pennsylvania Winery and Wine & Fruit Trail that partner with Wine Trail Traveler.