Crossing Vineyards and Winery
by
K.L. Sullivan
Summary: Crossing Vineyards, a new family-run winery, has colorful gardens to greet you before you enter the tasting room. Nearby are well-cared for vineyards. With a large covered patio available for enjoying a glass of wine, Crossing Vineyards offers visitors a lovely winery experience. North of Philadelphia, in the Pennsylvania countryside, the winery is a pleasant place to stop.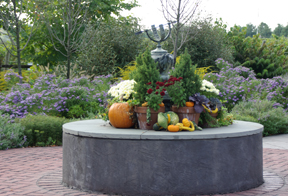 A long walk up a shade covered pathway, leads to a colorful garden in front of the entrance to the winery tasting room. The colors of the rainbow were abundant throughout the garden. A great deal of planning and maintenance must go into this area. Nearby is a lovely view of the vineyards. A patio complete with wrought iron tables and chairs gives visitors the opportunity to enjoy a glass of wine while viewing the vineyards and landscaped flower gardens. A short distance from the tasting room is a large elegant tent, available for outdoor festivities.
We met Tom an enthusiastic partner, winemaker and vineyard manager of the winery. At age ten, Tom was tending the horses, a job he did not like. One day he rode past a vineyard and at dinner that evening, Tom asked "Why don't we get rid of the horses and make wine?" While in college, he made small batches of wine. Living in California for a few years, he toured wineries. He returned "home" to plant a vineyard. Today he refers to the winery as "a life long dream." However, he admits that the first piece of advice he received from one winemaker was that he needed one thing, "a lot of money." When visitors take the opportunity to tour wineries, they will know why money is a necessity. Everything from planting the vineyards and waiting years for them to produce quality grapes to acquiring stainless steel tanks, filtering equipment, presses and crushers are costly.
In 2002, the first vines went into the ground. His parents were impressed with the vineyards and decided to partner with Tom. Today Tom says, the best thing is "working with my parents everyday and learning about business." With his father's background in sales and construction and his mother's in public relations and writing, the three make for an awesome partnership. In 2002, Tom started making wine, 3000 gallons. By 2004, Tom made his first vintage wine. For 2007, by using his own grapes and buying some grapes, he is producing over 7,000 cases. Currently the vineyard has Chardonnay, Cabernet Franc, Cabernet Sauvignon, Viognier, Chambourcin and Vidal Blanc. Tom's goal is to purchase land for more vines. Tom enjoys owning a winery and vineyard and as he says, he is "never bored ... something different is always happening whether in the vineyard or the winery."
Inside the winery, Tom spoke of cold fermentation and aging. One of his goals is to produce food friendly wines. Stainless steel tanks and modern equipment line the walkways through the winery. The barrel room lies between the tank room and tasting room. With an arch and chandelier, the relatively new barrel room gives one a sense of an old time wine cellar. In contrast, oak barrels are on innovative racks that allows the heavy oak barrels to be easily moved.
The tasting room countertop is soapstone and enhances the atmosphere of the wine tasting. The sides of the counter are also of decorative soapstone. Windows look out on the beautiful well-maintained gardens. Gift items include Riedel stemware displayed in a lovely glass-enclosed cabinet. Cheeseboards, ceramic dishes and wine journals are available. Wine ties from Manhattan are displayed. Barbara, tasting room manager, visits New York to purchase items for the winery. While you taste the wines, be sure to browse the gift selections.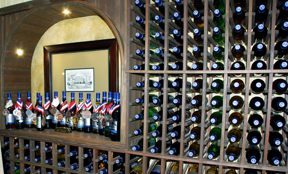 Our tastings included Merlot with a red fruit flavor and tannins, all balanced. Cabernet Sauvignon had a red fruit flavor, with light acid, fruit and tannins and an alcohol balance. Cabernet Franc was fruity on the aftertaste that lingers for a couple of minutes. Blush is a blend of Merlot and Steuben. Wild Berry is a blend of blueberries and raspberries. Late Harvest is Vidal that is smooth and sweet. Our tasting host was delightful, enthusiastic and knowledgeable about wine. She was quick to greet everyone who entered the tasting room.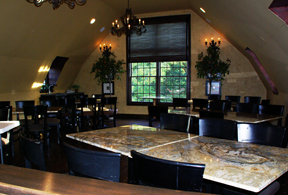 Crossing Vineyards has a long list of calendar events. Whether you want to learn about wine, wine pairings, wine tasting or attend a winemaker's dinner, there is something for everyone. Many of the events are held in a large room above the winery. From this event room there is a great view of the vineyards and through a paned glass window a view of the barrel room. We believe you will enjoy a visit to Crossing Vineyards.
Crossing Vineyards
Washington Crossing, PA
GPS N40° 17.122' W 074° 53.302'
---