Buddy Boy Winery and Vineyard
by
Kathy Sullivan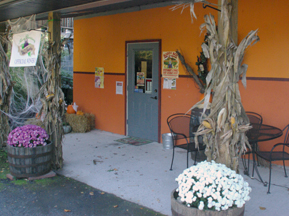 Summary: Buddy Boy Winery and Vineyard, in a wooded cove, is a friendly, laidback winery in Perry County, Pennsylvania where you will be eagerly greeted by one of the owners. The focus at Buddy Boy is serious, sweet, fruit wines and fun.
Bill and Coreena Warner own Buddy Boy Winery and Vineyard. Coreena's father purchased the property in the 1960's and planted an apple orchard. Eventually the land passed to Coreena and Bill. The apple orchard is gone now and Bill, who owns a portable sawmill, planted a three-acre vineyard, added the tasting room and a separate large event area adjacent to their home.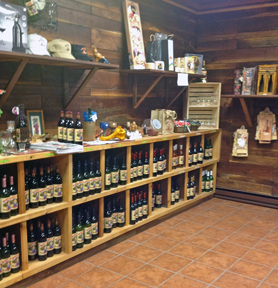 Located in the wooded Pennsylvania countryside, Buddy Boy winery is about wine, music and fun. With access to plenty of wood, Bill built the winery and the event building. The tasting room walls are of black walnut giving off a warm feeling of coziness. Detailed attention was paid to the ceiling created with cherry and black walnut. It is obvious that Bill enjoys working with wood.
The winery tasting room opened in 2011 with 5,600 gallons. Without their saying so, it is easy to tell the owners are proud of their winery and event center. Bill enjoyed pointing out his woodworking skills in the tasting room and talking about the event deck.
The Buddy Boy vineyard has three acres of grapevines that include Concord, Niagara, Sunbelt and Vidal. The vineyard includes a mystery grape. After the vines were growing, Bill recognized that he had a grape he was not familiar with. Eventually he took a vine to Cornell University for identification. They were not able to identify the grape. Bill noted that the mystery grapes ripens in July. At this point, Bill likes to use the mystery to make wine and has little interest in discovering its name. It is a drawing magnet for the winery as is the event center that Bill described as a "Nightclub in the middle of the woods."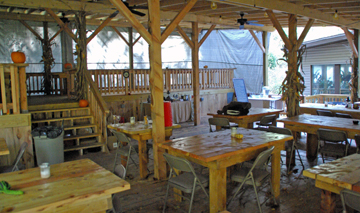 The "Nightclub" offers a dinner with a band every Saturday from April to November. The dinners focus on local food. People come for the dinner, music and to dance. Bill commented that some people are there to dance on the sturdy wood tables. The event area is available for weddings and receptions.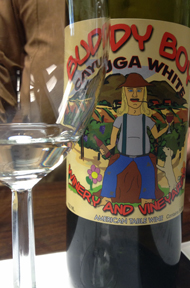 White Wines
Bill also sources grapes from Fulkerson Winery in the Finger Lakes, Walker Winery in the Lake Erie region of Pennsylvania and Long Island. Chardonnay 2011, a straw color, offered an aroma with pear and apple notes. The taste was of apple and citrus. The finish was crisp and fruity. Cayuga White was a very light color and the aroma was light. The taste was sweet with fruit notes.
Red Wines
Cabernet Franc was a dark red-orange color. The aroma was of red and blackberry fruit. The finish was crisp with fruit yielding to spice. Tadpole Nectar 2011 was a blend of Leon Millot and Vidal. The color was red with a Sienna hue. The taste was of red berry fruit and the finish was sweet and fruity. Four on the Floor was a blend of Leon Millot, Marechal Foch, Concord and Baco Noir. The wine was a bright red with a sweet berry aroma. The taste was smooth with a sweet taste of berries that dried on the finish.
Fruit Wines
Strawberry was a very light salmon color. The wine had strawberry notes and the finish was sweet and fruity. A most unusual wine is the HoneyLop wine. This wine offered notes of very ripe honeydew and cantaloupe. Bill noted that this is one wine that visitors either really like or not. Why not try it and see if you like it?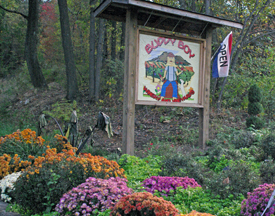 Mystery Grape Varietal
While not bottled yet, the mystery grape wine will be bottled as Eye of Newt. This red wine was fruity with red fruit notes and tannins.
Enjoy your visit to a winery in a wooded cove. If you are looking for an unusual wine, try Honeylop.
Buddy Boy Winery and Vineyard

111 Barnett Drive

Duncannon, Pennsylvania 17020
GPS: N40º 20.884' W77º 03.176'
Article written October 2012
---